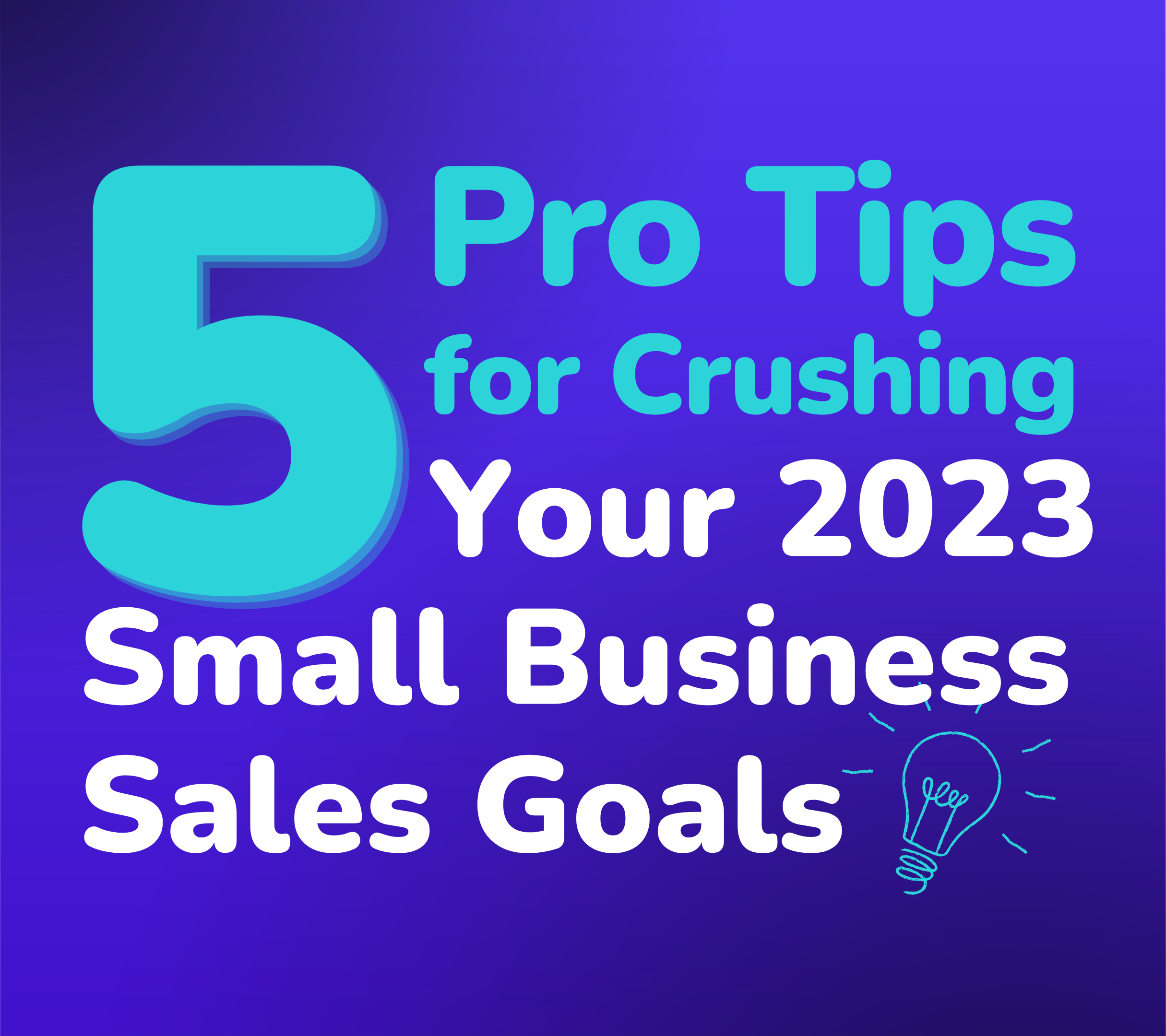 Blog
5 Pro Tips for Crushing Your Small Business Sales Goals
The first quarter of 2023 is gone (we don't know how!) but it's not too late to set–or reset–your goals for this year. Are you hoping to double your sales from last year? Are you looking to up your income by a certain amount, or make enough money to invest in something your business needs? […]
Published: Feb 16, 2023
The first quarter of 2023 is gone (we don't know how!) but it's not too late to set–or reset–your goals for this year. Are you hoping to double your sales from last year? Are you looking to up your income by a certain amount, or make enough money to invest in something your business needs? Whatever your sales goals are for this year, we are here to help! Social media is one of the greatest tools you have at your disposal, and a successful strategy can add up to a lot in new sales (and therefore a lot of extra moolah in your pocket).
Here's how you can totally crush your sales goals this year by upping your social media game.
1. Own your small business (not just literally)
People love to support small businesses when they can. The problem is it's way too easy to forget about the little guy and head to a big company. Whether it's grabbing a pie at Walmart instead of the local bakery or calling H&R Block instead of the accountant down the street, people tend to do what's easiest.
So what's the solution? Own your small business! Be proud of your local roots and your smaller scale. One of the best ways to embrace your identity as a small business owner is to make your business personal. Remind your customers who you are and why you do what you do. Are you a seasoned baker? GREAT! Tell a story about how your grandmother's apple pie inspired your career path. Are you a realtor? LOVE IT! Talk about why you love your town and are passionate about the location you sell in. Making your business relatable will draw in more customers and more followers. Your brand story is ultimately the story of you, so try to sell yourself as well. 
2. Give them something to talk about
Nothing gets word of mouth going faster than a promotional offer. Creating a fun giveaway, offering a percentage discount, or offering exclusive items to your followers are all effective ways to generate engagement and get your customers talking. Let's be honest: social media is all about creating buzz, and nothing gets people talking more than an unbeatable deal or giveaway. 
So what do you offer? Think about what you can offer that will compel your customers to buy from you. What are your best selling services or items? What are people clamoring for? Use your knowledge of your small business to help you select something that will really get the buzz going. 
Consider running a few promotional offers throughout the year that will engage with your current followers while also bringing in new customers. Social media is a great tool for growing your customer base, but you always want to drum up interest with your current audience as well. (After all, happy customers are your best advertisements.) 
Some of our favorite and most effective offers include:
-$10 off when you spend $50 

-Free gift with any purchase over $40 

-Refer a friend and get 10% off your next order

-"Like" this post and tag three friends for a chance to win an exclusive prize
You can play around with the specifics of your offers, but try to entice your customers to purchase something as soon as possible. Putting a deadline on your offers creates some urgency and encourages people to buy now. The longer they wait to purchase something, the more time they have to forget. 
You can also try partnering with another local business or account. This will give both of your businesses cross promotion and exposure to other accounts.
3. Shake up your content
You want to have a few different types of content in your social media arsenal. A good mix of content will help ensure that you nurture the existing customer relationships you have while also encouraging new customers to follow along. You should ultimately have four categories of content: promotional content, educational content, connecting content, and interactive content. A mix of these categories can help you to slay all of your small business sales goals.
Promotional Content
These posts are designed to inform your customers of your offers and giveaways. They should be fun and totally click-worthy. Got some puns up your sleeve? This is the time to whip them out! Eyeing up a fun Canva design? Let's go! The whole point of these posts are to pull customers in to buy, so break through the noise by doing something fun, flashy, and click worthy.
Educational Content
Offering educational content is a great way to actually connect with your audience (instead of sounding like a nonstop sales pitch). What can you teach your followers that can drum up interest? Creating how-to videos, infographics, or answering some common questions will help increase shareability and get more clicks (and lead to you slashing more small business sales goals). 
Connecting Content
Here's the time to shine with your personal stories. How and why do you do what you do? What do you love about being a small business owner? How are you involved in your community? All of this can help you to create content that connects you with your audience. 
Interactive Content
Social media is meant to be, well, social. The more interaction we generate, the more we can increase our followers and our sales (and also appease the algorithm gods tbh). Interactive content can include:
-Polls

-Games

-Quizzes

-Infographics

-Contests 

-Riddles

-Trivia
Try to do a mix of interactive posts–or even just stories–and see how much it increases your reach and engagement. 
4. Start planning (and posting) ahead of time
The key to a well-oiled social media strategy is an organized schedule. Taking an hour or two to determine what, where, and how you will post will actually save you time when you look at the big picture. Small business owners have a lot on their plate, so a very effective way to manage everything is to break everything up into manageable tasks. Devote an hour or two to your social media strategy at the beginning of the month, and you're done until next month. Aim to post anywhere between 3-10 per week on your more active channels like Facebook, Instagram, and/or Tik Tok. This will help you crush your small business sales goals in no time.
Now that you have your four content categories, mix them up and space them out. The most important ones to place are your promotions, so put them on your schedule first and then fill out your calendar with your remaining content. CinchShare is designed to help you manage all of this (think of it as your assistant who is always hustling). 
5. Spread gratitude 
When you make a sale, be sure to be grateful and add a personal touch when you can. If you really want to stand out from the big stores and companies, this is a great way to do this. A thank you email, another small offer, or even a simple repost can go a long way to creating lasting relationships with your customers. 
Those are our top tips for crushing your small business sales goals in 2023.
We know how hard it can be to juggle everything–family, friends, health–all while trying to run your own business. That's why we created CinchShare. Take social media management off your plate (while still totally smashing your sales goals)!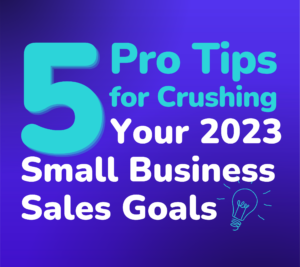 Previous Article
Small Business Social Media Trends that Will Rule in 2023
Next Article
You may also like