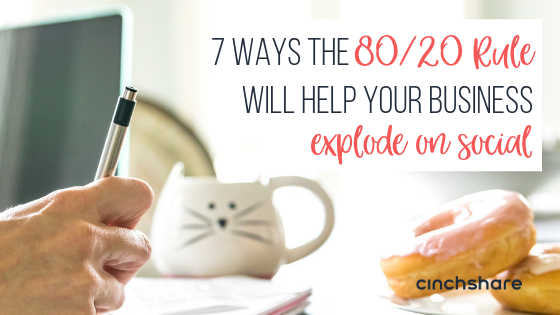 Direct Sales
7 ways the 80/20 Rule will help your business explode on social
No one likes to be bombarded with product posts and sold to all day long while scrolling their social feeds. So how do you let people know about your products without being "salesy" and turning them off? This is where the 80/20 Rule of content marketing can help you…
Published: Sep 10, 2022
No one likes to be bombarded with product posts and sold to all day long while scrolling their social feeds. So how do you let people know about your products without being "salesy" and turning them off? This is where the 80/20 Rule of content marketing can help you shine! Our goal is to teach you how to stand out from the sea of solicitors with your own amazing, custom content so that people will 
want
 to see your strategically placed product posts when it's time AND they'll buy from you, we guarantee it! The concept of the 80/20 Rule is simple: 80% of your posts should be related to the products/service that you offer, but indirectly; while 20% of your posts are tastefully created product and/or business opportunity posts. This rule applies to everyone on the planet, no matter what you sell! So whether you're in direct sales, network marketing, or have a brick and mortar business, you should adhere to this extremely effective rule. We know, we know, it's easier said than done right? Do you think we'd really leave you to forge ahead on your own, without any guidance? Of course not – this is what we live for! #itiswhatwedobest So, sit tight, read on, and let's get your creative juices flowing!
Example 1:
Beauty & Skincare – Let's say you are in the business of helping people look and feel their best – which is pretty awesome. A great example of a post that isn't directly about your product but grabs your perfect potential customer's attention would be an engagement post which asks them a question. This is called a Call to Action – you're prompting them to reply to you which allows a natural progression to occur – conversation! Once you get them talking you'll build a relationship that is sure to lead to a loyal follower and long term customer.
Example 2:
Children/Creativity/Learning – Do you sell children's books? Perhaps you own an educational toy store? Or maybe you have an Etsy shop with kids' clothing? The post idea below is perfect for you to attract an audience who will want to interact with you on social. By being authentic and nostalgic, you'll be viewed as that fun friend from childhood who always had the BEST ideas! Well, maybe back then they seemed like they were haha.
Example 3:
Clothing & Accessories – If you're a fashionista who adores helping others with their apparel and accent pieces, we've got a fantastic example for you! Be so trendy and on point that your fans will stalk you on social to see what you have coming up next! Give them tips and tricks like how layering can make a 'mom outfit' pop and they will be knocking down your virtual door for more!
Example 4:
Health/Wellness/Fitness – We're pretty sure if you've got 'an oil for that' you know what we're going to say – recipes! Or maybe you have a yoga studio and want to entice newbies to check out your classes. Coming up with simple DIY recipes and health challenges will attract all the people out there who are looking to live more natural, healthy lives. YOU are going to help them by providing the information and education they need to succeed! Way to go!
Example 5:
Home & Organization – Do you enjoy helping others reduce clutter or clean without chemicals? That's awesome, come on over! We love seeing posts that make us laugh when it comes to doing the things most people procrastinate about – you know, the adulting thing, aka chores. Funny quotes and humor can have a great impact online as everyone needs a relatable chuckle! Believe us, they'll be coming back for more comic relief!
Example 6:
Kitchen & Food – Attention all you foodies out there – we've got a scrumptious post idea for you! Pretty much anything related to food is appealing to 99% of the world's population, so your 80% should be recipes, engagement posts, food funnies, cooking videos and memes. Remember to post daily and go for quality content that benefits both you and your audience!
Example 7:
Seasonal – Of course this category applies to everyone and the content should always try to relate to your business but it's also fine to ask questions to get to know your fans and followers. Share fun facts, family memories, quotes, songs, games – you get the idea!
Once you start thinking about how your business can serve others, the 80% will come to you naturally because it's all about sharing on social – not selling. The sales part will come after you build those relationships by providing value and becoming a resource for others. You're going to rock it! Be sure to be consistent and 
schedule
 your content so everyone sees your posts often and engage with them when they take the time to comment, and of course it's great to create your own graphics and use custom photography like 
8020 Social's
 (it's where we got these amazing photos for our example graphics!). If you're not there yet and need a bit of help, we've got your back! Our 
Cinch Graphics
 shared folder has thousands of ready-made graphics for you to add to your content calendar! We can't wait to see you in our news feed!
Previous Article
How to streamline your business on social media
Next Article
Increase Sales, Bookings & Recruiting by Scheduling Facebook Album Posts with CinchShare
You may also like