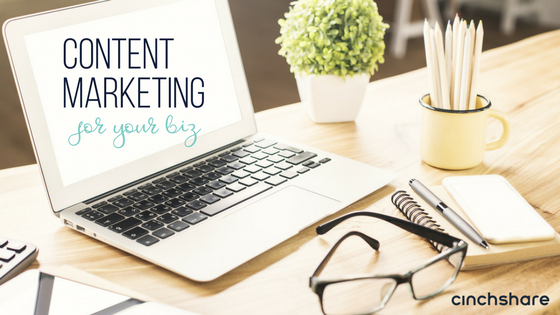 Marketing
Everything You Need to Know About Content Marketing
You may not even realize this, but content marketing is the core component of the way you do business online. It's how you attract your potential customers and turn those connections into sales which is why we wanted to explain exactly what the key factors are…
Published: Sep 10, 2022
You may not even realize this, but content marketing is the core component of the way you do business online. It's how you attract your potential customers and turn those connections into sales which is why we wanted to explain exactly what the key factors are which make up content marketing, why you need to understand it and how to best utilize it to have a successful business!
What is Content Marketing?
By definition, according to the 
Content Marketing Institute
, "Content marketing is a strategic marketing approach focused on creating and distributing valuable, relevant, and consistent content to attract and retain a clearly-defined audience — and, ultimately, to drive profitable customer action."
Why Do We Need It? 
As business owners, our entire reason for marketing online is to catch the attention and keep the interest of people who can turn into long lasting and loyal customers. Imagine if we acted like pushy telemarketers who won't take no for an answer until you literally hang up on them – not a great way to do business, right? That is where content marketing comes in. Instead of being spammy by pushing products and our business opportunity all day and night, we use content marketing to attract and maintain the interest of our followers. This creates a relationship with them which is genuine and that is where the magic happens!
How Do We Do It?
It's pretty easy! Really! Think about what you see every day on Facebook in your newsfeed. What stands out and makes you engage? Like a post? Comment? Share it? THAT is content marketing! It's the posts that make us laugh, tug at our heartstrings, learn about something new and get a reaction out of us. You want to do the same on your business page, timeline and in your groups and events! We strongly suggest adhering to the 
80/20 Rule
: 80% of the time you should be sharing information that provides value to both you and your audience; the other 20% is for you to promote your business. That's right, even on your business page it's not all about your business. Share funny stories, videos, inspirational posts, etc. to keep your followers interested in sticking around and checking in often. You can repurpose content that you see online by sharing it or scheduling it, or you can create your own graphics with DIY design software like 
Canva
, PicMonkey or WordSwag. And you don't have to reinvent the wheel every week! No, no, we are far too busy working our business to come up with brand new content all the time. That is where 
Evergreen Content
 comes in! Your new followers missed out on a lot of amazing content from the past year so share it with them! Great content that doesn't expire can be used time and again. Your friends and family won't mind seeing a post that they saw a couple years ago. Actually, they may not even have seen it back then! Be sure to share valuable content and not sell and you'll get the results you want in no time!
What Do You Mean, Share Not Sell? I'm working here!
Social selling is all about thinking strategically. How do I grab the attention of my friends and family to show them how amazing my products are without turning them off by posting a bunch of company graphics? Simple! Use what you sell as an extension of your life. 
Share
 how your products have made a difference, 
show
 them in your own photos and be sincere and most of all, be yourself! Facebook doesn't want you to do business on your timeline, but that is where strategic marketing comes in. You can post photos of your life which include your business and 
share without pushing product
. It's great to do this in your VIP groups as well! Here's a perfect example:
When Do I Post this Content?
Remember that it really isn't about how often you are posting, but that you remain consistent. Some people find that posting once a day on their business page, group and timeline works well for them while others post 2-3x a day. Still, others post 3x a week. It really boils down to your audience and the engagement you receive. Posting too frequently can turn people off, while not posting for a week can result in losing your followers in their newsfeed. We suggest posting once a day or every other day to keep yourself visible. Remember that the reason why social platforms like Facebook, Twitter and Instagram were created was so that people can connect and engage. It's not about selling but sharing and by doing so with content marketing you will see that your online community will connect with you, respect you, and appreciate the value you bring to their lives!
Previous Article
How to throw multiple Facebook parties at the same time
Next Article
How to throw a successful 7 day Facebook party
You may also like