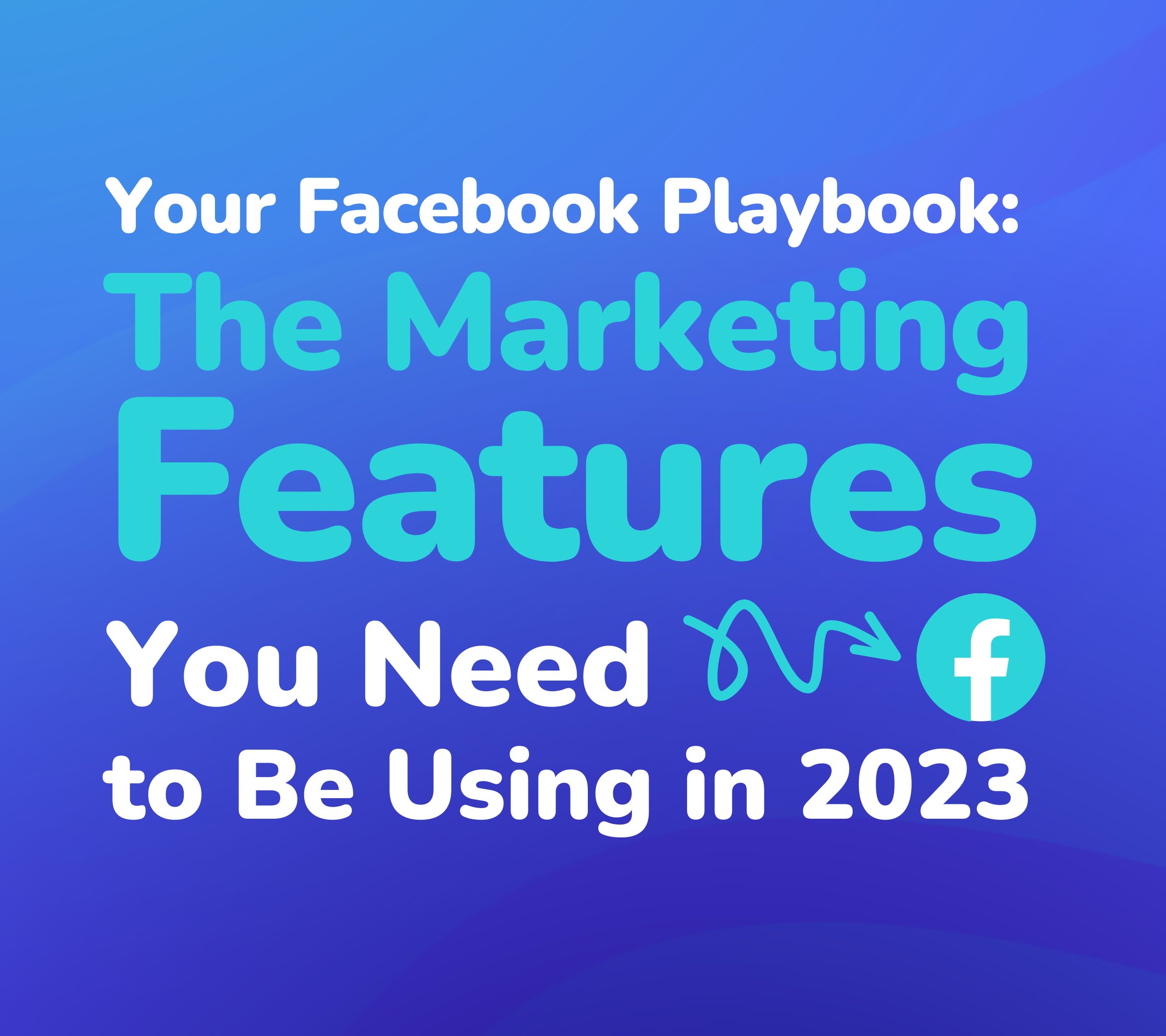 Blog
Your Facebook Playbook: Marketing Features to Use in 2023
Ah, Facebook. After all of this time it's still the big dog in town in terms of social media. And with over 2.7 billion monthly active users, you really can't afford to not be using Facebook for your business. Facebook has recognized the unique role it plays for many small businesses and is in turn […]
Published: Feb 16, 2023

Ah, Facebook. After all of this time it's still the big dog in town in terms of social media. And with over 2.7 billion monthly active users, you really can't afford to not be using Facebook for your business. Facebook has recognized the unique role it plays for many small businesses and is in turn focusing on features that can play a useful role in your marketing. 
Facebook updates are certainly not as flashy as some of the other social media giants, but that doesn't mean you should sleep on them. Effectively embracing the new features will help you expand your reach and create more engaging content.
Here are our favorite new Facebook marketing features that you should be integrating into your social media strategy in 2023.
#1. Event Sharing Through Facebook
What it is
: You can share a Facebook event directly to your Instagram account.
Why we love it:
This is a total timesaver and an easy way for you to reach more followers. Event pages on Facebook are great, but if you have loads of followers on Instagram, it used to not translate. But now you can reach all of your followers more easily (without any extra work). This is our number one favorite Facebook marketing feature improvement.
#
2. Expanded Group Profiles
What it is
: Facebook has expanded the tools that are available to you, such as
increased characters in the "About Me" section,
an "Open to Message" (not quite done yet, but in the works), and an
ability to label group members as "contributors" and "socializers".
Why we love it:
If you manage a group page as a business owner, this gives you more room to engage with potential customers. Group pages are a huge focus of Facebook right now as group pages are thriving while usership is declining in other areas. But if you are in direct sales, group profiles make a ton of sense and can be a great place to rally your customers together
and
organize your sales teams.
#3. Reels in Groups
What it is:
You can now create and share reels in a group.
Why we love it:
Facebook is really leaning into groups with its latest rollouts. And as we said, we love group pages for direct sales. They allow you to get feedback more easily from your customers and sales team, and also provide another way to establish brand presence. Group reels are a Facebook marketing feature you can't sleep on.
#4. Royalty Free Media for Reels
What it is
: Facebook increased the amount of royalty free audio available for their reels.
Why we love it:
If you've tried creating reels on Facebook, you've probably noticed that they are much more limited than the reels on Instagram. This increase in audio will lead to a lot more options for creators (and more fun, honestly). Reels can serve as advertisements, so the more creative freedom you have the more you will have space to find out what works for your business.
Those are the latest Facebook marketing features that you need to be utilizing for your business in 2023.
Facebook, Instagram, Tik Tok–we get how overwhelming it can be. Which is why we created CinchShare. Organize, plan, and schedule your content in one place so you can focus on everything else. Sign up today to start your free trial!
Previous Article
The Best Viral Social Media Moments of 2022
Next Article
Top 5 Instagram Features You Need to Use in 2023
You may also like