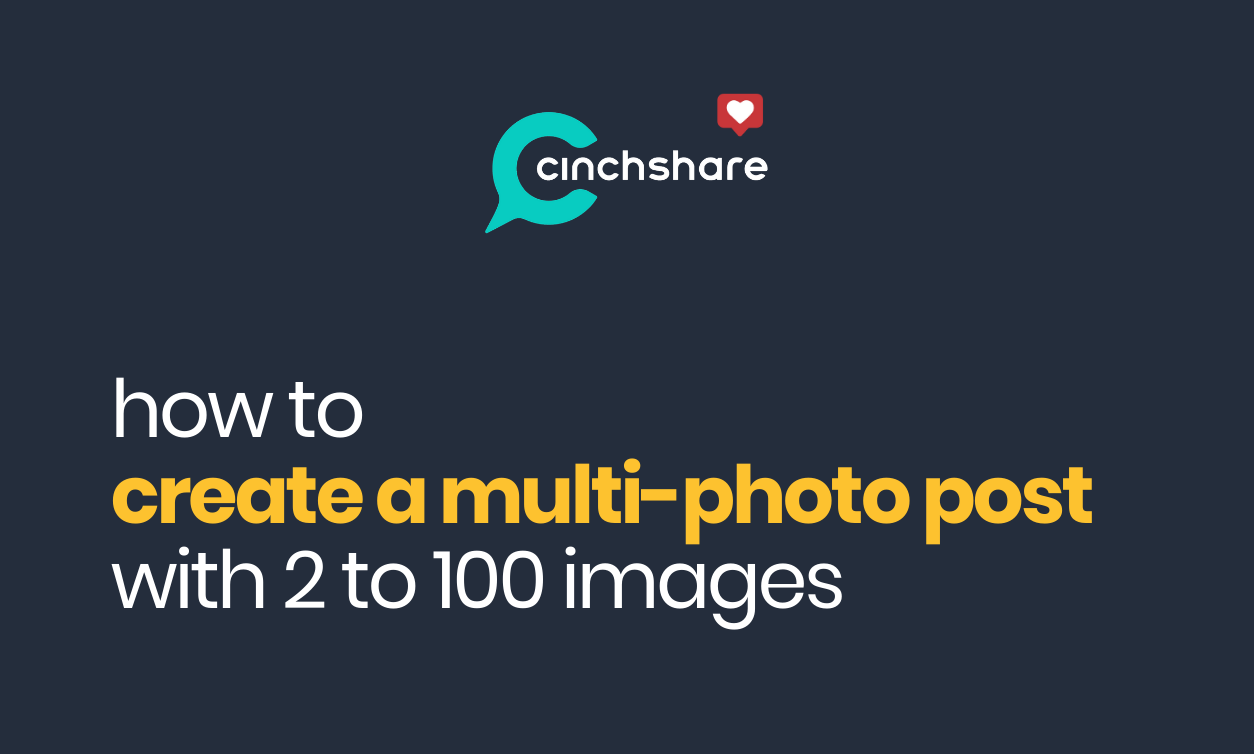 Facebook
How to Get Noticed with our Multi-Photo Post Feature
CinchShare is excited to announce that scheduling multiple photos in a single post has arrived! We know from your emails, page messages and comments that this Multi-Photo Post feature is the one you've been waiting for and we couldn't be happier to release…
Published: Sep 10, 2022
CinchShare is excited to announce that scheduling multiple photos in a single post has arrived! We know from your emails, page messages and comments that this Multi-Photo Post feature is the one you've been waiting for and we couldn't be happier to release it to all of our awesome Cinchers today. It's super fun, easy to use and of course we wanted to give you several strategic ways to get started using them for your business! Before we explain the great ways you can utilize Multi-Photo Post, it's important to note that Facebook now allows you to schedule Multi-Photo Posts into your Groups and Events however they do not support the captions on the individual photos. No worries though! You can either add the information directly on your photos in Canva (or another DIY design software) or simply add letters or numbers to the corners of the photos so you can put the information listed in the post message. We do this ourselves and have had great results!  Here are some examples of how you can strategically use multi-photo posts on your personal timeline and business pages that will get you and your business noticed!
Business Pages
: Facebook business pages are where you want to talk about your products and showcase the value of each one. With the Multi-Photo Post feature, individual products can be displayed in a single post with a specific caption about each item. How awesome is that?!? This is perfect for displaying a few products that are in a matching set or compliment one another, a before and after or an A/B/C/D post. If you want your party guests to see a variety of products in one post, you can share your Multi-Photo Post from your business page into your FB party! Because it's a post on your biz page, it's public, so it will be visible to all your guests no matter where you throw your party on Facebook. You can even schedule the share using our 
links
feature!
Personal Timeline
: While it's not where you want to post about your products and business opportunity, your personal timeline 
is
 the perfect place to highlight the lifestyle you're able to live thanks to your business! Do you love how working from home allows you to take your dog for a walk in the middle of the day or pick the kids up from school? Maybe it's the freedom of taking a road trip on a whim or grabbing lunch with a friend. Schedule a multi-photo post to show everyone how flexible and rewarding owning your own business can be and they'll want to find out more! A few images from last week's vendor show, in-home party or networking event is another fun way to give your family and friends a behind-the-scenes look at your biz. Throw in a couple selfies where you're strategically using your favorite products and there you have it, a bunch of ways to share about your business without being pushy or spammy.
One final tidbit about the new multi-photo feature: 
Each photo has captions 
(but not in groups and events, yet)! Your entire post can have a message, AND each individual photo has the ability to have it's own caption, including links! When showcasing multiple products, you can use the caption in each photo to explain more about the product, why you love it, and you can even include the link so those interested can order! Scheduling multiple photos in one post has been our #1 requested feature for the past 2.5 years. We're excited to use the feature ourselves, and can't wait to see all of your creative multi-photo posts in our feed. Before you go, we'd love to know what you think about our latest feature and the ways that you're planning to use it for your business in the comments below!
How to video:
Previous Article
Social Media Image Cheat Sheet 2019
Next Article
Use a Starter Kit to give your Instagram Grid some glam!
You may also like