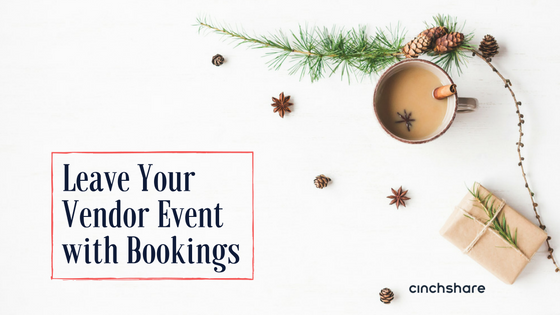 Direct Sales
How to Get Party Bookings On The Day of a Vendor Event
Are you tired of Vendor Events costing you more money than you make from them? Have you been trying to figure out how to get bookings on the day of a vendor event instead of just collecting leads? Does it drive you crazy when no-one answers your phone calls when you…
Published: Sep 10, 2022
Are you tired of Vendor Events costing you more money than you make from them?
Have you been trying to figure out how to get bookings on the day of a vendor event instead of just collecting leads?
Does it drive you crazy when no-one answers your phone calls when you follow up with the leads from people who entered your prize draw?
Here's something a bit different to try at your next vendor event stand to help you get bookings at the event and have them schedule a party within the next 3-4 weeks….
…. Just have your best & most popular products out on the table with no prices & when people stop by tell them that everything on the table today is here to pick up and test out and then ask them a question…. "Out of everything on the table, which one do you like the look of the most?" And then as soon as they point to something, pick it up and get them to test it, try it, imagine owning it…. BUT THEN….. 
HERE'S WHAT TO DO THAT'S DIFFERENT FOR VENDOR EVENTS
…..
….. Go straight to asking for the booking, instead of just collecting a name and number as a lead to follow up!
Offer a $50 gift voucher for anyone who books a day and time while at the market stand…… ….. It won't cost you $50, because you'll take your consultant commission discount off of that, and you'll only be giving that $50 voucher away if the party goes ahead within 3 weeks from today…. so I think it's worth it….. use the 
Bookings Funnel
 technique to get the party booking dated into a maximum of 3 weeks away.
So, here's what to say to them once they have stopped by your table and picked up something they love to try it and test it:
"I'm actually looking for people who would prefer FREE PRODUCTS here today…. Because I normally do in-home parties where the hostess gets FREE PRODUCTS for having a get-together with her friends…"
"So what I am doing at the market here today, is giving anyone who books a party from here, a $50 gift voucher as a thank you from me…. and that's on top of all the other free products that the company always gives to our hostesses!"
"So, (NAME)…. If you DID have a party….. what would you prefer…. a weekday or weekend?"
And then if they answer positively with either a 'weekday' or 'weekend' response, I'll offer them my next 2 available dates in my calendar and book them in!
…. WHAT DO YOU THINK…. SOUND GOOD?
You can give this a try too! I've done this so many times before and it has worked so well!
…. I believe that without doing these vendor events I would never have been able to do a consistent 5-6 parties a week for 6 years in a row….
THIS is exactly what I did to start my bookings:
when I was brand new
when I had to re-start my bookings again from scratch
when I moved interstate into an area where I knew no-one
and even did this again when I went through the horrible experience of my company closing down and then I joined another company and re-started again….
…. ALWAYS using this vendor event strategy as my Number One choice for 
'How to Get Bookings WHEN YOU HAVE NONE'
Let me know if you need more help with how to do this for your company or your type of products. And send me your questions, so I can help you get new bookings fast! …. OH! And can you please send me your SUCCESS STORIES when you do this and it works for you too? It warms my heart and just makes me feel good when I know that what I've shared has helped another Party Plan Consultant to NEVER EVER Run out of Bookings AGAIN! Cheers to endless bookings!! ~ Mel xx
Previous Article
Top Time Saving Scheduler for Solopreneurs
Next Article
Get your Facebook Group chatting. It's as easy as 1-2-3!
You may also like