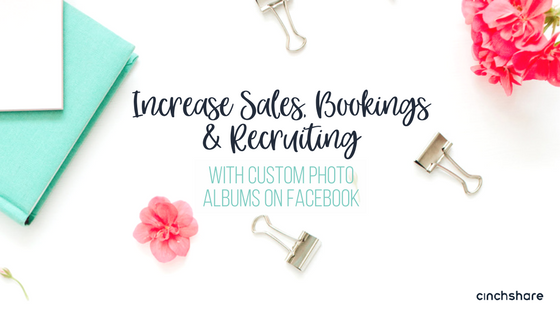 Direct Sales
Increase Sales, Bookings & Recruiting by Scheduling Facebook Album Posts with CinchShare
There's a finesse to the art of social selling. At CinchShare, we like to refer to it as strategic "social sharing", because there are definitely things you do not want to do when you're marketing your business (such as sell on your personal…
Published: Sep 10, 2022
There's a finesse to the art of social selling. At CinchShare, we like to refer to it as strategic "social sharing", because there are definitely things you do 
not
 want to do when you're marketing your business (such as sell on your personal timeline). This post is all about how to use one of the most under-used features in Facebook – albums.
Albums are one of (if not) the BEST ways to share in a strategic and non-salesy way and, simply put, people LOVE to look through them!
Why use Facebook Albums?
Share more than 10 images in a post!

Facebook Loves Them!

Increase visibility for your Facebook Business Page

People LOVE virtual photo albums and can't help but scroll through
What types of albums should you have for your business?
Selling
These are great for sharing how your products work and which ones are the most popular as well as highlighting which are best as gifts for certain times of the year:
Best Sellers – A custom album made up of pictures of your top 10 best selling products
Product Demo – A custom album of personal pictures of products in use
Product Testimonials – A custom album of testimonials from customers
Bundles – A custom album of great gift ideas for holidays and special occasions
Reviews – Everyone loves to read reviews of customer feedback!
Booking
Create custom photo albums that focus on booking new parties and classes. Highlight things that a customer or guest would 
want to know about about hosting a party
, put it all at their fingertips and make it easy for them to say 'YES! I want to party with you!'
Past Hosts – A custom album featuring past Hosts and all the free product they earned
Perks of Hostess Program – A custom album of images that share the top benefits of hosting a party with you
Host Only Items – A custom album of products available to Hosts only
Recruiting
These custom albums are perfect for sharing how your lifestyle rocks because of your business! By sharing these, you're sure to intrigue your friends and followers into chatting with you which can lead to them joining your team!
Business Perks – A custom album of some of the things you have been able to do as a result of your business
Business Opportunity – A custom album that shares the basics of getting started with your business as a Consultant
Incentive Travel – A custom album that share fun pictures of any incentive travel you have earned from the company, who wouldn't love a free trip?
Conferences – A custom album of photos from your national conference, retreats and meetings, showcasing fun, friends and yummy food!
What do they look like when shared to a Private Facebook Group?
How to create a Facebook album
Albums are super fun to create and we're sure you already have a few on your personal timeline from Christmas or birthday parties and vacations. It works the same way on your business page! Setting up custom photo albums is easy, the hardest part is choosing the photos that you want to include!
Go to your Facebook Business Page
Click on Photos then Create Album
Choose the photos you wish to add to your custom album
Write any descriptions you wish to go with each photo
Name your album something simple that explains the photos inside and you can include a description if you like (website links are awesome here too)
How to SHARE the Facebook Album in a scheduled post
Create Facebook Album on a public Facebook Business Page – upload images
Copy URL link of album
Paste into Link Import box and click "chain-link" icon
Add message to the post
Schedule to your Facebook Group
How to schedule INTO a Facebook Album
*Note – Facebook only allows one image post at a time to be scheduled INTO a Facebook Album*
Create Facebook Album on a public Facebook Business Page – upload images
Go to CinchShare Networks page, click Facebook tab, click Refresh Networks
See album nested under the public Facebook Business Page – make heart icon Navy Blue
Go to schedule post dashboard
Create a post – and click the Album to schedule into.
Is your mind just overflowing with all kinds of ideas of what to put in your Facebook albums? Here is an
awesome Albums Planner printable
 to help you get those thoughts together and make those albums happen! We can't wait to see the albums that you create! Share the links with us below so we can check them out!
Previous Article
7 ways the 80/20 Rule will help your business explode on social
Next Article
Tips to Get Qualified Leads At Vendor Events
You may also like