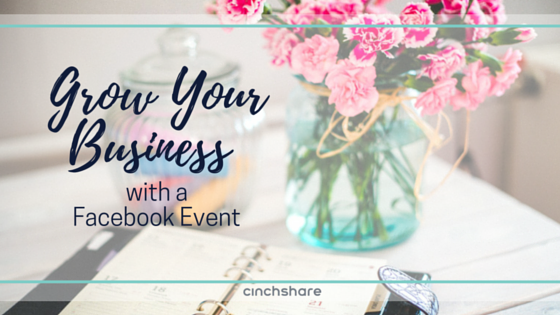 Direct Sales
How to Use a Facebook Event for Direct Sales
In-home parties are pretty awesome. You get to meet new people and sell product; it's a combination of girls' night out and shopping. But what if there was a way to expand your customer base by, oh, let's say an infinite amount, and you don't…
Published: Sep 08, 2022
In-home parties are pretty awesome. You get to meet new people and sell product; it's a combination of girls' night out and shopping. But what if there was a way to expand your customer base by, oh, let's say an infinite amount, and you don't even have to leave the comfort of your own home to do it? I know it sounds too good to be true, but throwing a virtual party in a Facebook Event will take your direct sales business to the next level – and then some! Imagine the ability to throw several parties a week, even in one night, all while wearing your pj's!
Facebook Events are easy to set up. You can create them from several locations:
Timeline – this is the most common type of Facebook Event. You create it from your News Feed or from an existing event and have the choice of making it private or public. There's also an option of your guests being able to invite their friends. The visibility of the event is up to you as is the ability for others to add people. We've been to both types of events and it truly depends on the host's involvement for a successful outcome.
Business Page – this event will be public so it is searchable on Google and anyone can join and attend. What we like about it is that you can boost your event so it's visible in your target audience's newsfeed. Perfect for flash sales and mystery host parties! Without promoting the event, only those who are sent an invite will really see it, and only those who click "Going" or "Interested" will get post notifications. So really, it's totally up to you if you'd like a huge bash or a more intimate party. Check out the public events we've held on our business page!
Group – this event is created inside a group that you admin. Fantastic for classes to explain how to use your products, team training, flash sales or VIP specials. Your group members are already interested in your content, so it's great to have the option of attending an event to learn more about your products and/or services. Only group members will see the event posts so there is a sense of exclusivity. Join us for our monthly Cinch101 trainings in our CinchShare Facebook Party & Marketing Training Facebook group where we share social media marketing tips and teach about our unique features!
Plan ahead for the best results!
Whichever event you decide to create, make sure to coach your host so that she is aware of your party style. If you'd like to keep it small she'll need to know the max amount of people to invite and if they are welcome to invite their friends, etc. Host Coaching can make or break your party. Guests will be excited to attend if the host is upbeat and active. Everything that applies to an in-home party also applies to a Facebook Event. The host must greet and entertain along with you! Imagine if people walked into her home and she wasn't even there – weird, right? So make sure your host knows the proper etiquette by 
working with her
 so you can both reap the rewards! With CinchShare, you can 
schedule your entire party or class
 in a Facebook Event so that you can engage with your guests and not have to stress about what to post next. Just like prepping for the home party, planning your virtual party ahead of time greatly reduces anxiety and increases the ability to show off your stellar personality. Build those relationships by engaging and answering questions, further explaining your products and having fun! What type of Facebook Event do you prefer? We'd love to know in the comments!
Previous Article
Getting Started with a Facebook Business Page
Next Article
3 Facebook Party Mistakes To Stop Making
You may also like