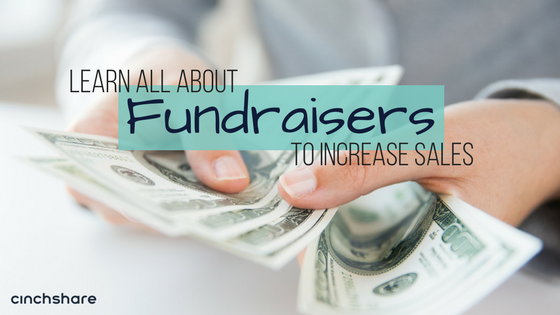 Direct Sales
Increase Your Sales With Fundraisers
Who's ready to learn how fundraisers can help increase your: Sales Bookings Recruiting What is a fundraiser? A fundraiser is a PARTY! Nothing more, nothing less. You're simply donating a portion (or all) of your commission to the person or group hosting the…
Published: Sep 10, 2022
Who's ready to learn how fundraisers can help increase your:
Sales
Bookings
Recruiting
What is a fundraiser?
A fundraiser is a PARTY! Nothing more, nothing less. You're simply donating a portion (or all) of your commission to the person or group hosting the party. We are going to challenge you to think outside the box today and see how fundraisers can triple your business this year.
Why do you want to do a fundraiser?
You want to do a fundraiser because it's mass marketing for your business! You can take one contact and turn it into ONE HUNDRED contacts! Watch this 2-minute video to see how, and then tell us if YOU are ready to book your fundraiser!
Increase Bookings:
Let's talk bookings! The more people you're in front of, the more bookings you're going to get. Funnel all of these people from your fundraiser event into your customer group and you've created a breeding ground for future bookings! TIP #1: Tell them in their Facebook event, that anyone who books a party will also have 10% of THEIR party donated to this fundraiser. This is a great way to get your hostess booking parties for you! TIP #2: Make sure you're doing a Facebook Event on your public business page so everyone can SHARE the event! Maybe even do a giveaway for anyone who shares a certain post onto their personal timeline. Can you imagine having $1000 a month in baseline sales BEFORE you even enter in any regular parties?
Increase Recruiting:
Anyone want to build your team this year? Again, the more people you're in front of, the more you will recruit. It's a simple #'s game. TIP #1: Some of my best recruits were hostesses of fundraisers. Don't forget to ask them to join your team and do their OWN fundraisers in the future! If they are raising money for a group, chances are-they know TONS of people! TIP #2: Make sure you're funneling these people into your customer group so they will continue to see your recruiting posts in there. TIP #3: Make sure you're inviting people from the Facebook Event to your team's monthly opportunity night! TIP #4: Make sure you send a "thank you" email to everyone who ordered from the party with links and graphics for booking and recruiting information.
Increase Sales and Hit Company Incentives:
Here's the facts! If you're consistently doing fundraisers on a monthly basis, your sales are going to go through the roof! TIP #1: You can build an empire while hitting all those sales incentives your company offers. Earn free trips, promote, and earn free product or giveaways your company offers by consistently hitting high sales while doing these fundraisers. TIP #2: When you do a fundraiser, YOU keep the hostess rewards and THEY get all the commission. So you can start "buying" cheap giveaways for booking incentives and giveaways in your parties and your customer group. You can essentially run your business for free by doing this!
So how do you find fundraisers?
Fundraiser opportunities are everywhere. You simply have to learn how to search for them! TIP #1: When someone messages you (or you see a post) asking for donations for something, message them and let them know how they could raise money for their cause by doing a party/fundraiser with you. TIP #2: Search Facebook! There are hundreds of fundraisers going on RIGHT NOW! All you have to do is a Google or Facebook search of your surrounding areas and the word "fundraiser". I dare you-try it! Message the organizer and let them know you can do a public event and they can host a party and earn all the commission for their cause. TIP #3: Go through your contacts and your Facebook friends list. How many people have kids in: basketball, football, gymnastics, volleyball, softball, going on school trips, going on mission trips, etc. The possibilities are endless when you actually FOCUS on what to look for.
Who can you do fundraisers for?
You can honestly do fundraisers for ANYONE! Groups, teams, churches, schools, individual classrooms, elite sports, animal shelters, adoption funds, dance studios, gymnastics, show choir, Relay for Life, Breast Cancer fundraisers, women's shelters…the list is endless. You do need to be aware that some fundraisers can be used as a tax write off, and some cannot. If the group you are fundraising for has a 501c3 non-profit status from the IRS, they can give you their tax ID and you can actually write the amount you donate off on your taxes. 501c3 means they are a registered non-profit organization. If they do not have a 501c3, you can't write the amount you donate off on your taxes! Melissa Fietsam says she personally does them for anyone who wants to do one, regardless of whether they have a 501c3 or not for the following reasons: 1- She uses the hostess benefits for herself to increase business 2- She gets "mass marketing" out of it.
Tips and Tricks for Fundraisers:
Fundraisers are a huge part of my own business. So I have plenty of tips & tricks for you to make them successful! If you're not intentional about what you want to focus on GETTING from the fundraiser, you won't get anything. If you focus…you can expand any area of your business that you want! Here's some simple tips to make your fundraiser successful: TIP #1: Tell your hostess you will give them 25 cents for every person they get added to your customer group. What does this do? Gets your hostess sharing the link to your group with everyone she knows. Also make this a post in your public Facebook event for people to share! Say 50 people get added to your group… it cost you $12. Well worth the cost of advertising dollars! TIP # 2: Make sure you make a post before, during, and after the event to tag the group, individual, or organization you're donating to on all social media channels. LET PEOPLE SEE how easy it is to raise money with you! When you tag them, all of THEIR friends see! TIP #3: Give your hostesses of the fundraiser 50 door prize slips and tell her if she gets 50 people to fill them out you'll do a giveaway in the fundraiser. If she gets people to fill out a form with their email and information (make sure there's boxes for them to check on booking info, recruiting info, etc.), do a fun giveaway. You can also do this as a Google Survey. TIP #4: Always ask your hostess if she has "helpers". These are people who will help her collect orders: Mom, aunt, sister, grandma, best friend…they can all get their OWN packet. The more people you have collecting orders, the better!
Advertise yourself as THE Fundraiser lady:
If you don't tell people you do fundraisers, how will they know? Think about the 8 key areas of your business:
Home Shows
Customer Newsletter
Facebook Parties
Customer Group
Facebook Business Page
Hostess Packets
Social Media
Follow Up
Now think of how you can incorporate fundraising information into every single aspect of those areas of your business. And do it CONSISTENTLY! For example: FACEBOOK PARTIES: What is one thing you can do in your Facebook parties to "advertise" that you do fundraisers? Post below and let's get some ideas rolling!
Now it's time to rock your business with some fundraisers!
JOIN MY DIRECTLY SOCIAL FACEBOOK GROUP FOR MORE DIRECT SALES TIPS:
https://www.facebook.com/groups/directlysocial/
Melissa Fietsam, @DirectlySocial
Previous Article
Baby It's Cold Outside – Free Facebook Theme Party Bundle
Next Article
5 Ways to Use GIFs in Your Biz
You may also like