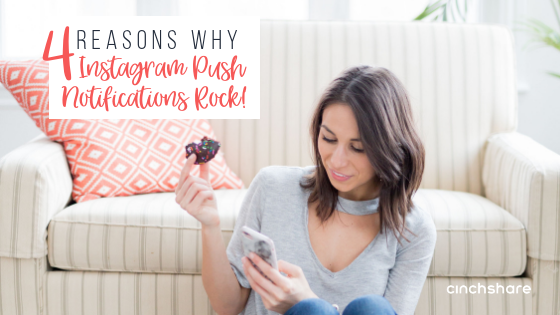 Cinchshare Tips
4 reasons why a push notification is a better option for Instagram
If you're on Instagram to market your business, you already know that to be seen, you need to be consistent with your posts. Coming up with a bunch of content consistently takes up enough of your time, so why spend even more of it every single day having to…
Published: Sep 10, 2022
If you're on Instagram to market your business, you already know that to be seen, you need to be consistent with your posts. Coming up with a bunch of content consistently takes up enough of your time, so why spend even more of it every single day having to manually post it all? Scheduling posts to Instagram allows you to have more hours in the day to focus on other projects at hand, and we know you have plenty things to do! So if you're all for scheduling to work smarter, there are options: some software have auto posting to Instagram, and that's great, but we wanted to share why a push notification is a pretty handy feature when it comes to scheduling and engaging on IG.
1. Check yourself!
When it comes to sharing scheduled posts to Instagram, opting for a push notification provides an opportunity to review your content 
one more time
. Regardless of how long you've worked to hone your craft and social skills, misspellings, grammatical errors, and misplaced messages are bound to happen. In the world of publishing, there's often a a team of editors in place to carefully look over content prior to publication. Chances are good, you don't have a team of editors at your beck and call (yet!). This means when it comes to catching errors and making last-minute changes to your messaging, it's up to you. Following a push notification allows you to view your post content again, review it, and make any tweaks, if necessary. It also gives you the chance to add a freshly trending hashtag, a geo-location tag or mention/tag another user or business in your post — which you can't always do in your draft.
2. Create carousel posts 
You can schedule up to 10 images to showcase a multi-photo slideshow, or carousel, for your followers to scroll through. Once you have the push notification, you can go in and edit each photo to your liking, but the caption along with all your hashtags will only be a click away (
copied to your clipboard to paste
) instead of you having to come up with what to write on the fly.
3. Increase your visibility by – oh – A LOT!
When you receive the push notification, you are automatically brought into Instagram's platform. This will boost up your post visibility because you'll be engaging immediately on that scheduled post and other accounts' posts that you see in your feed. Spending even ten minutes commenting and engaging will create a bunch of new opportunities for you!
4. Schedule Instagram Stories
With CinchShare, if you are at an event or retreat and have a half hour free to crank out a few stories, that's all you'll need. Don't worry about having to find the time to fit several story sessions in throughout the day, you can record them all at one time and 
schedule them in CinchShare
! Have a few tips or graphics you've made in Canva or another DIY software and don't want to use them all at once? Space them out and you'll receive a push notification when they're ready to get published on Instagram! You can't schedule your stories with automatic posting which is why we absolutely LOVE the push notification — it's a HUGE time saver and allows you to be super strategic with your marketing so you can share effective content just like you do in your feed! Don't these reasons sound fantastic? We think so too! Have a blast scheduling your content to Instagram; we can't wait to see you in our feeds and stories!
Previous Article
Blogging is key to direct seller's success
Next Article
Free DFY Social Media Posts & Virtual Parties for Direct Sellers – September 2020
You may also like