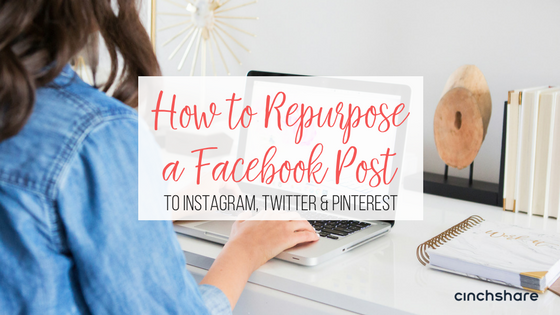 Cinchshare Tips
Easily Repurpose a Facebook Post with CinchShare
Repurposing your content to multiple social media platforms will not only save you a ton of time but it will also help your business grow by leaps and bounds! There's no need to reinvent the wheel and create a ton of brand new content every day when you can…
Published: Sep 10, 2022
Repurposing your content to multiple social media platforms will not only save you a ton of time but it will also help your business grow by leaps and bounds! There's no need to reinvent the wheel and create a ton of brand new content every day when you can recycle what you already have and simply adjust it slightly to cater to the platform you are posting it on. Being on more than one platform will increase your visibility and expand your reach and we all want that! If you have been scheduling your posts to Facebook regularly and building up your content library, it's super easy to grab one of your posts from your history and repurpose them to post on Instagram, Twitter and Pinterest! Don't just take my word for it though, let me show you! To begin, go to your Post Library page and find the post you'd like to repurpose. Click on the recycle icon and then the post will automatically repopulate in the scheduler.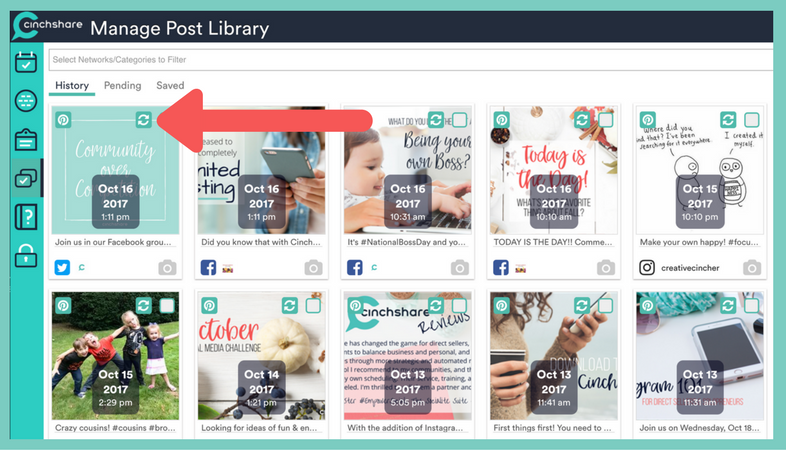 For Instagram
, you can keep the post message or edit it, and then add a 
TextClip
 of your hashtag bundles. Set the time and the date and select the Instagram account that you would like it to get published to (you can have up to five accounts!) Click 
Schedule Post
 and you're all set!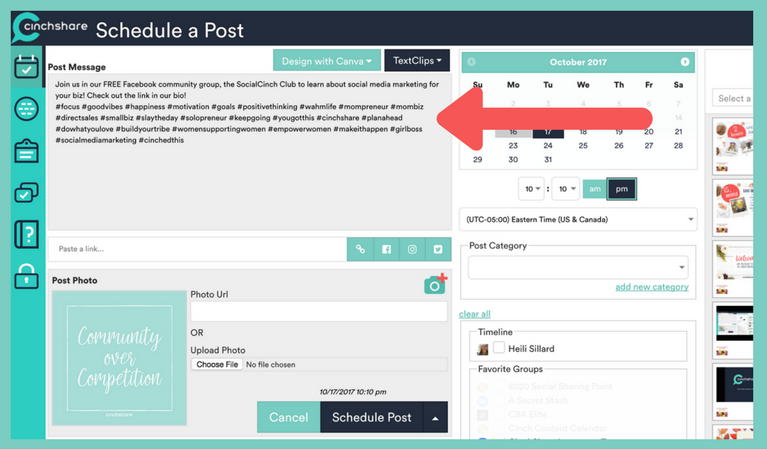 To repurpose the Facebook post for 
Twitter
, you can either go back to your Post Library to click on the recycle icon again or you can go over to the Pending Post list on the right and click on the drop down on the Instagram post to make a Copy. Once again, you'll edit the post message to turn it into a tweet and have a couple hashtags and then set the date/time and the Twitter account (network) you'd like to send it to and that's it! Easy peasy.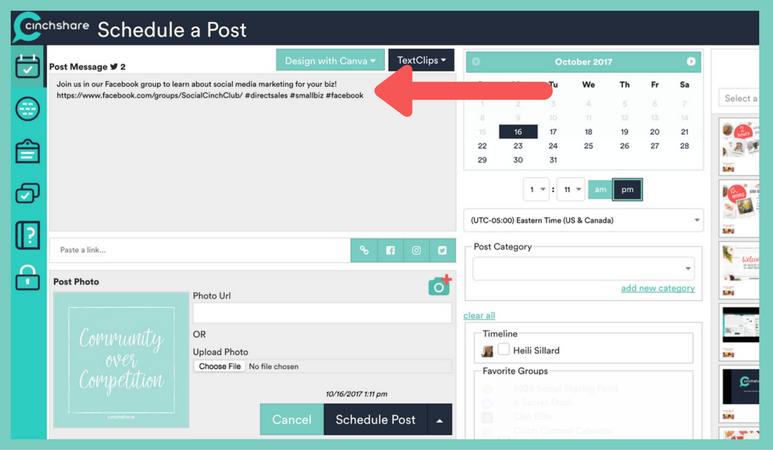 What we love the most about pinning through CinchShare is that you don't even have to go to 
Pinterest
 at all because, hey, we all know that we totally squirrel in there and lose track of time and wait, what were we doing for work again? Save hours of your life by avoiding the Pinterest vortex! To pin in CinchShare, simply return to your Post Library and click on the Pinterest icon in the top left corner of the post.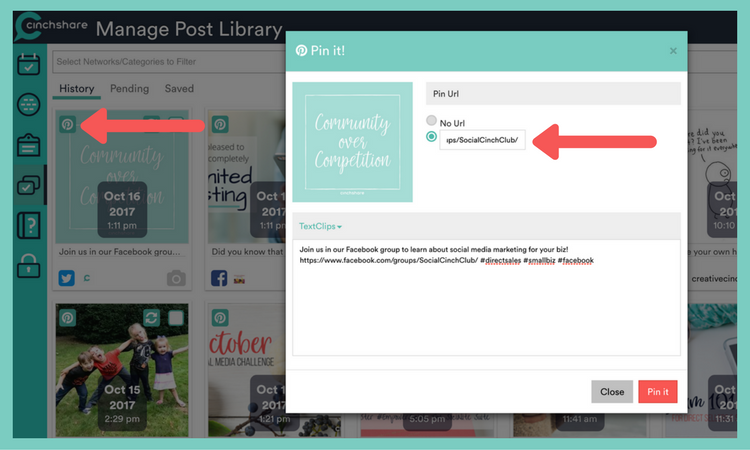 This opens a window where you can use a custom url or leave the existing url. This is pretty neat because we left it up to you to decide where you'd like to direct your audience when they click on your image. You can also edit your post message there (remember, less is more on Pinterest) and include a couple hashtags then choose the board you'd like to pin to and tada! You're ready to go and repurpose another post!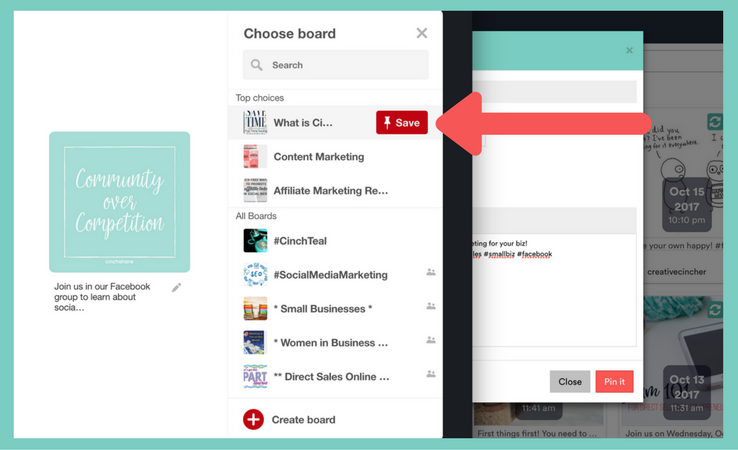 I also made this quick video to literally show you how easy and fast it really is to schedule to multiple platforms with CinchShare. It only takes a few minutes and that's with me explaining all the steps. I'll bet you can do it even faster! It really is simple to convert your Facebook post into an Instagram Post, Twitter tweet and Pinterest pin. The more your content is out there, the more people will see it, so don't put all your eggs in the Facebook basket, there's a whole big world of social out there! Save time, plan ahead, and grow your audience by expanding your reach – it's super simple when you use CinchShare! We can't wait to hear what you think so be sure to share with us in the comments!
Previous Article
3 Things to Stop Doing So You Can Make More Money in Direct Sales
Next Article
3 easy ways to attract new team members on Instagram
You may also like