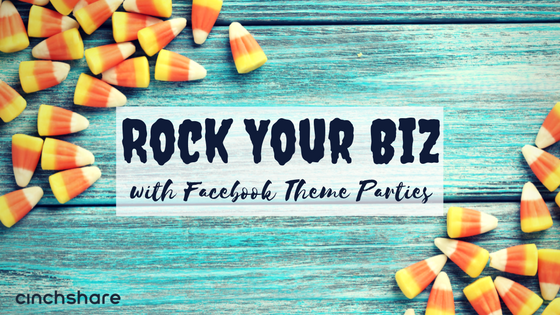 Direct Sales
Rock Your Biz with Facebook Theme Parties
I believe you can sell anything online. Jewelry, food, clothing, skincare, wellness, books, stickers, planners, crafts, training services… you name it. If there is a company out there that makes products, Facebook is a place to sell it. With a good marketing strategy,…
Published: Sep 10, 2022
I believe you can sell anything online. Jewelry, food, clothing, skincare, wellness, books, stickers, planners, crafts, training services… you name it. If there is a company out there that makes products, Facebook is a place to sell it. With a good marketing strategy, hostess sourcing and coaching process, and party model, you can sell it, sister! I did nearly all of my direct sales jewelry business on Facebook parties, and now sell training and coaching services via Facebook and Facebook parties. And one of the ways I do it, is with theme parties. Theme parties are just that – Facebook parties set against the backdrop of a theme. When you approach Facebook parties from the perspective of social psychology, people come together online for a few key things – community, friendship, and sense of belonging. We come to social media for entertainment and to see what our friends are up to. We do not come for commercials, and honestly, how many times have you ever clicked on or liked a Facebook ad? Hardly ever, I'm guessing. When you serve the entertainment and relationship priorities first, your parties are much more about engaging, than about selling. When your Facebook parties are fun and the focus is on something other than just "here's a great picture, buy my stuff," your sales will organically increase as people come to know, like, and trust you. I teach a method called the 3 P's of social content – personality, purposeful, promotional. You can grab your free e-book 
HERE
 on this topic. The goal is to mix up your social content so that you are showcasing personality and fun (like the theme), with the promotional content you are selling (like your product). Whether it's a hostess party or you are selling directly on an event on your fan page, here are the steps to creating your own high engagement and fun theme party.
Choose your theme.
If you have a host for your party, work together on a theme that she would find fun and engaging for her circle of friends. Choose a date and time that will work for her group, and is conducive to the party theme. For example: Sunday Brunch should obviously be on…. Sunday. Christmas should be somewhere in December, but Christmas in July could be in July.
Theme parties ideas:
I love the 80's (or 90's)
Baby Shower
Birthday
Prom, Homecoming, or other "dance"
Any major holiday
Beach Party
Spa Day
Slumber Party
Bingo/Bunco
Trivia Night
Mexican Fiesta
Movie Night
Teen Heartthrob
Snowed In
Summer Fun
Ugly Sweater Party
Hawaiian Luau
Tea Party
Sunday Brunch
Create your party plan.
I teach a live party format, where your parties are held live for 90 minutes at a scheduled time, and everyone joins a Facebook group or event for real-time engagement. Your party outline is then a combination of games, images, video, and promotional content. You want to think about a very linear view of your posts, and how the overall view of your posts tell a story. Following is a sample party outline I recently used in the Socialite Suite where I was selling Pinterest training. The theme of the party was "I love the 80's." Pre-party post 1 – Build your party playlist with 80's tunes (personality) Pre-party post 2 – Show us your 80's look! (personality) Pre-party post 3 – 80's meme war (personality) Pre-party post 4 – 1 hour party countdown (purposeful) Post 1 – Introduction video/welcome (personality) Post 2 – Party instructions (purposeful) Post 3 – Share the party playlist (personality) Post 4 – Tip – Using Pinterest for direct sales (purposeful) Post 5 – Tip – Using Pinterest for team leadership (purposeful) Post 6 – Game – Share your teen heartthrob (personality) Post 7 – Free giveaway – 80's themed digital assets (purposeful) Post 8 – Share your Pinterest profile so we can follow each other (purposeful) Post 9 – Short video on using the digital assets (purposeful) Post 10 – Like my Facebook page (promotional) Post 11 – Pinterest training sales post (promotional) Post 12 – Pre party winners announced (personality and purposeful) Post 13 – Thank you for coming! (personality)
Create your party graphics.
Now the fun! Create graphics that support your theme. You will want your graphics to look consistent and thematic, so that someone can see the continuity of your theme through each post. The goal is to weave your product into your theme posts. For the 80's party, I used backgrounds that had an 80's flair to them, and did personality posts around things that are fun (and funny) from the 80's – like big hair, blue eye shadow, and teen heartthrobs. These are the posts that will typically have the highest engagement. For promotional content, since I was selling Pinterest training I shared free tips (purposeful value) that would be useful, but also inspire someone to learn more for the later promotional posts. Considerations to create graphics consistency: background or digital paper, font choice, color theme, any overlay elements, and props.
Have fun!
The more you commit to your theme (think costumes when doing your videos, for example), the more FUN your guests will have, and by extension, the better your overall party will be. Yes, I did rock the side ponytail and blue eyeshadow for my 80's party videos. When I go, I go all in! Give your guests a social experience and they will remember you and will be telling their friends about this awesome party they just had! Interested in learning more attraction marketing and social media tips for your direct sales business? Come on over and join 
The Socialite Suite
 on Facebook! 25,000 direct sellers and marketers can't be wrong!
Previous Article
3 easy ways to attract new team members on Instagram
Next Article
Grow your business with Facebook theme parties
You may also like