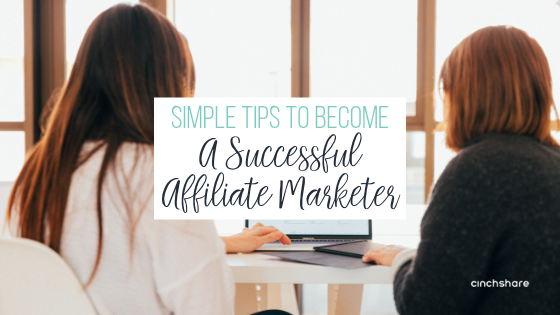 Affiliate
Simple tips to become a successful CinchShare Brand Ambassador
For the last five years, we've been working hard and loving every minute of making CinchShare the best social media software it can be for our customers. The feedback we've received about our unique time saving features and social media trainings have been…
Published: Sep 10, 2022
For the last five years, we've been working hard and loving every minute of making CinchShare the best social media software it can be for our customers. The feedback we've received about our unique time saving features and social media trainings have been phenomenal! So many of you have gone above and beyond with our grassroots campaigns, completely blowing our minds with your passion and enthusiasm. Our 
CinchShare Brand Ambassador Program
 is our way of saying thanks for spreading the #cinchlove – it's the least we can do after all you've done for us!
So what IS a CBA?
CBAs are awesome CinchShare users who love our software as much as we do! You check in with us on our social platforms, share our posts and like and comment on our content. You share and participate in our weekly Facebook trainings and campaigns on Instagram and tweet about us on Twitter. Basically, you're our friends and cheerleaders who want to let everyone you know about us!
CBAs do not spam, no ma'am!
You can eat it if you want to, but don't dish it out! Just like your products, if you spam your affiliate link all day long people won't even pay attention to it and they could end up unfriending or even blocking you, so be strategic about it. Here are a few fantastic examples of the right way to successfully promote your link:
Share our resources:
We provide a ton of assets for our community every month like our Social Media Calendars and weekly trainings on our 
Facebook business page
. Share this information with your team and friends who need help marketing their business on social along with your CBA link and explain to them how scheduling ahead 
really 
helps you save time and work smarter!
Become a resource:
We want your team and friends to see you as a person of value! Make it easy for them to work online by providing them with the tools they need to succeed! We've created a CBA 
shared folder
 that has a complete Cinch101 training (including post messages, graphics and video tutorials!) for you to schedule into a group or group event to 
show 
them how CinchShare works in action! We've also added a bunch of great blog posts that will help them learn how to market their business online and throw amazing Facebook parties!
Display your CBA status loud and proud!
Include your affiliate information on your marketing material. Just as you would have your email and social profiles on a business card or flyer, adding it to the rest of your info (or having it stand alone) is a fantastic way to share the #cinchlove! Being a CinchShare Brand Ambassador is essentially a side hustle – so be proud and put it out there for everyone to see when you attend networking and vendor events! It's also a great idea to put it in your social profile bios and in a Linktree on Instagram – include the promo code CinchFree so people can try us out for five weeks free! People will start asking YOU what CinchShare is and why you decided to become a brand ambassador!
Blog about your experience:
Blogging is a fantastic funnel for sharing your CBA link with others. Meet Katie Turner – mother of three, early childhood education enthusiast, 
Preschool Inspirations
 mastermind & CinchShare user. Katie says scheduling with CinchShare is not only her best-kept secret, but also credits using the tool with helping her grow her FB reach by more than 80K last year! Sharing your own personal, real-life testimonial about how CinchShare helps you will resonate with so many others. We provide web buttons created for you in that CBA Central 
shared folder
 that you're welcome to use for your blog as well!
Show them what they can have access to:
Our CinchShare Ready-Made Graphics 
shared folder
 literally has 
thousands of graphics
 available to our users so they can easily plan out their content for months at a time! There are engagement posts, quotes, seasonal graphics, company branded social starter kits, FB and IG stories templates and theme party bundles! You can 
batch
 an amazing Instagram grid using your company's 
starter kit
 for them to drool over, and you can even record your own video showing them the folder!
So there are a few ideas to get your gears turning – can you come up with another one? We'd love to see it! Tag us! We hope that these come in handy and please remember to not blast your link out there without a plan. Be strategic, explain how much CinchShare has improved the way you work your business and people will be signing up with you left and right! Be sure to join our free 
CinchShare Facebook Party & Marketing Training
 Facebook Group so we can continue to provide you with easy tips on promoting your link and help you navigate social media platforms with the best practices. Thanks again for becoming a CinchShare Brand Ambassador! We are very excited to hear about your success. Keep in touch!
Previous Article
How to Get Leads on Instagram Stories Using 3-Slides
Next Article
Don't put all your eggs in Facebook's basket
You may also like