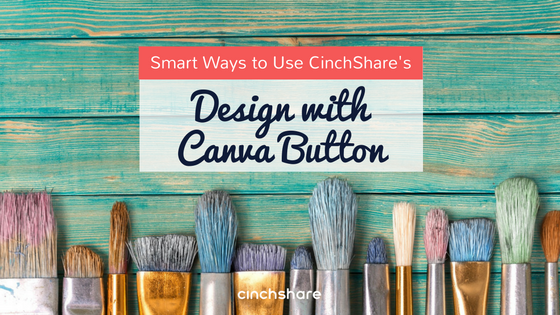 Facebook
Smart Ways to Use CinchShare's Design with Canva Button
As the head of Creative Media here at CinchShare, I'm beyond excited to share how you can use our Design with Canva button to enhance your business! We've added several of Canva's design types to our button's drop down menu and we're…
Published: Sep 10, 2022
As the head of Creative Media here at CinchShare, I'm beyond excited to share how you can use our 
Design with Canva 
button to enhance your business! We've added several of Canva's design types to our button's drop down menu and we're pretty sure you'll appreciate and love them as much as we do. I'm going to show you the various ways to save and schedule these formats in CinchShare so you can continue to be smart about creating and planning your own unique content:
Wait a minute! What is the Design with Canva button?
If you're new to CinchShare or have never heard of Canva, let me be the first to tell you that we love Canva so much that we simply had to integrate it into our software. It enables us to design and schedule our images all in one place, because as you know we're all about saving time! 
Canva
 is a phenomenal DIY design software which offers a ton of templates, images, graphics and filters so you can design exactly what you need to market your business both online and off. You can check out our 
Canva Playlist on YouTube
 where I run through their awesome user-friendly interface along with a few How-To tips for solopreneurs. The 
Design with Canva
 button is what you click on to select a design type and that will open up your already existing, free Canva account right inside CinchShare's Schedule a Post page and BAM! You're ready to create!
Facebook Post
This is the original template that was offered with our Design with Canva button and it's a great size for Facebook posts to view on a computer. Depending on the layout of your design, you may want to select this format, create your image and then schedule your post.
Facebook App
This design style is sized perfectly for Facebook's Mobile App. So many of us are on the go these days, using our mobile devices to check in and work on Facebook. The Facebook App format makes it easy to view the post without having to scroll or mess with your zoom. I use this one the most often for our 
business page
 and the 
CinchShare Facebook Party & Marketing Training
 Facebook group.
Twitter Post 
With the launch of scheduling to Twitter on the horizon, the Twitter Post is here just in time! Tweets with eye-catching images get noticed and retweeted a lot more than just regular text only tweets and you'll be ready because it's super easy to select this design style and schedule it to your Twitter profile!
Pinterest 
I love pinning to Pinterest in CinchShare and now you can design your post in the vertical design style that is super popular and receives the most repins! They work on Facebook too, so if you have a list or recipe you'd like to design and it would look best on a longer image then you can schedule the post to Facebook and 
pin from your CinchShare history
. But if you only want to use this vertical format on Pinterest then you can click on the 
Design with Canva
 button, select Pinterest then create your design and publish when it's complete. Then, instead of scheduling the post you can save it using our 
Save
 feature and then when you click on the Pinterest icon simply select Custom URL and type in the link that will direct your audience on Pinterest to your desired location. It can be anywhere! Your FB biz page, group, timeline, event, album, Twitter, Instagram, blog or website, just to name a few. How amazing is that?!?
Instagram Post
People go nuts over inspirational posts on Instagram. Work them into your grid design by creating your own branded posts with the Instagram post template then 
schedule it to Instagram
 right inside CinchShare! Easy peasy and it makes it super simple to stay consistent! I hope these tips help you work smarter and have your creative juices flowing! We'd love to hear of other ways you can think of to use these awesome new design styles in our 
Design with Canva
 button. And as always, if you have any questions, please let us know!
Previous Article
How Engagement Posts on your Timeline Grow your Biz
Next Article
How to throw multiple Facebook parties at the same time
You may also like