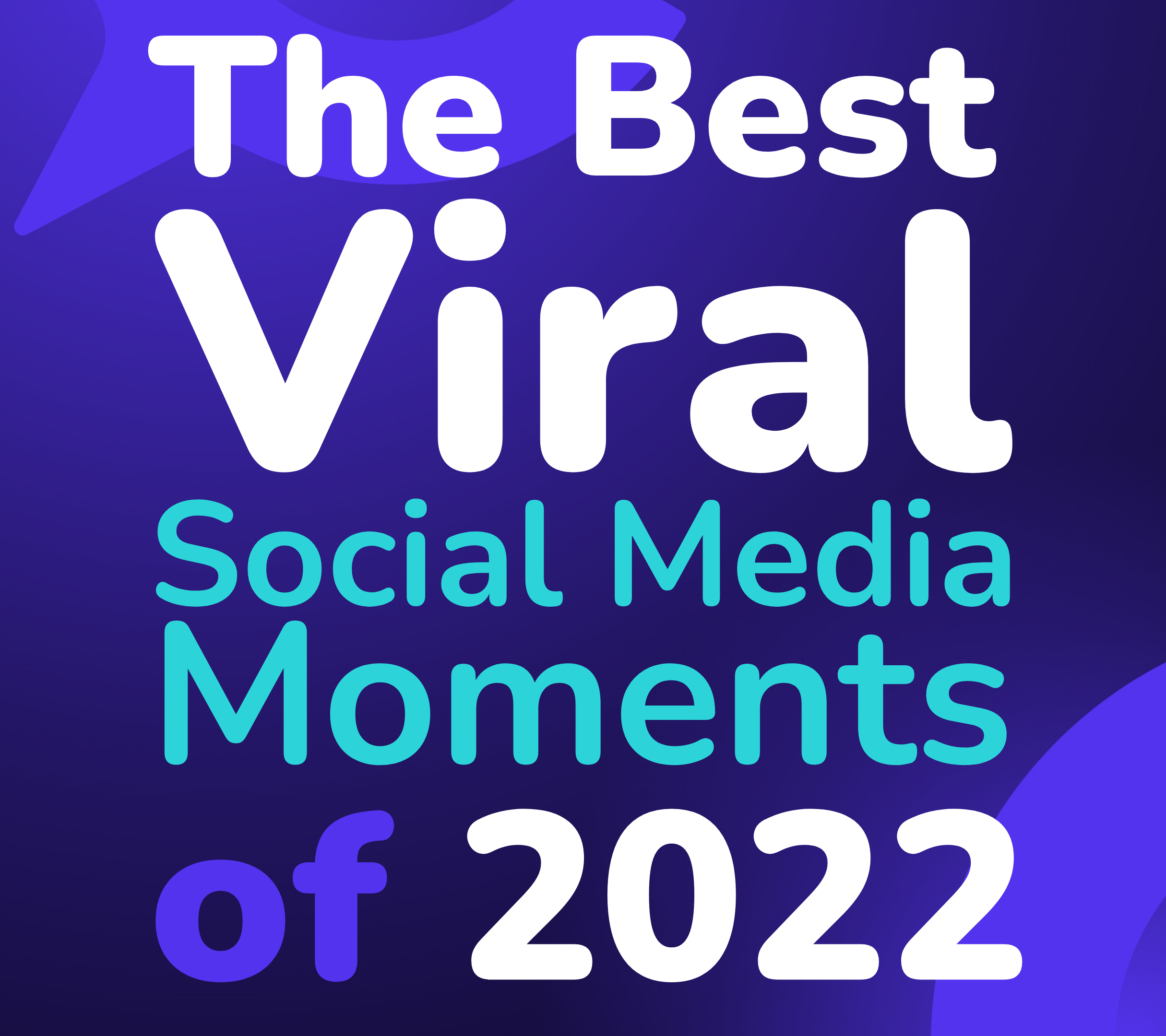 Blog
The Best Viral Social Media Moments of 2022
We start off every new year with a clean slate, full of hopes for a year of growth and maturity. The clock strikes twelve and we are all ready to wipe away the drama of last year and vow to never make the same mistakes again (haha!). And that makes it all the more fun […]
Published: Feb 10, 2023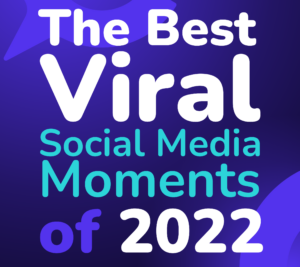 We start off every new year with a clean slate, full of hopes for a year of growth and maturity. The clock strikes twelve and we are all ready to wipe away the drama of last year and vow to never make the same mistakes again (haha!).
And that makes it all the more fun to look back on the past year to see what social media drama monopolized our screens (and our brains a little bit if we are being honest). So pop the champagne to sip and celebrate another wild year on this social media rollercoaster! Let's look at the biggest viral social media moments of 2022.
Here are our top ten favorite viral social media moments of 2022.
Will Smith & His Slap
It was impossible to not hear about the "slap heard around the world". When Chris Rock made an off-color joke about Will Smith's wife during the 2022 Oscars, Smith casually walked on stage and slapped him right. Across. His. Face. The moment went viral instantly and was turned into countless memes. While he apologized profusely the next day, it is a moment we will never forget and will certainly live on in meme history.
Heidi Klum & Her Worm
The queen of Halloween was back at it again this past year. The beautiful supermodel transformed herself into a bizarre worm, with seemingly no reason or reference. As she posted her transformation online, fans were thrilled and slightly disgusted at the unusual costume. It was certainly one of the biggest viral social media moments 2022 .
Emma D'Arcy & Her Drink
It started with a simple question: "What's your drink of choice?" When Olivia Cooke asked her co-star Emma D'Arcy this question on an HBO "Get to Know Me" segment, her answer of "A Negroni… Sbagliato… with Prosecco in it." Her perfect delivery of these little words (along with D'Arcy's cult-like following) made the drink an instant hit on social media. TikTok was drunk on Negoronis for a solid month because of the viral video. Of course we had to try it for ourselves– and believe us, it really is a "stunning" drink.
Wednesday Addams & Her Moves
Jenna Ortega's performance in
Wednesday
is undeniably fantastic. But our favorite scene hands down is her self-choreographed dance at Nevermore Academy's Rave'N Dance. The dance became a viral sensation instantly, with TikTok users clamoring to do their own version. Celebrities hopped on board as well, including Lady Gaga who did her own incredible performance. We will watch Jenna dance any day with moves like that, not just on Wednesdays.
Hailey & Selena
A love triangle for the ages: Hailey Bieber, Justin Bieber, and Selena Gomez. After Selena and Justin's breakup (and his prompt marriage to Hailey Baldwin), it was pretty clear that Selena and Hailey were not exactly on good terms. Rumors swirled about their tension for years, which is why when a photo emerged from the 2022 Academy Museum Gala in October of the two women hugging, the internet exploded. 
Swifties & Their Ticket Fiasco
When Taylor Swift announced her first tour in five years, the internet lost its mind. While many expected it to be difficult (if not impossible) to get a ticket, no one could have predicted just how much of a circus it would turn into. Ticketmaster was completely overwhelmed, selling two million tickets in the first day and experiencing countless glitches. While many waited for days in an internet queue to get tickets, scalpers snatched up and over inflated their prices. The result? Class action suits against Ticketmaster and a Department of Justice antitrust investigation. Oh, and about a million memes about the debacle. Hell hath no fury like Swifties who are denied the chance to see their queen. A true viral social media moment.
Ben & Jen, Again
Bennifer is back at it. Twenty years after their first romance the couple is giving it another go, and social media was all too happy to conjecture about the future. Ben Affleck and Jennifer Lopez first met on set of
Gigli
in 2001, got engaged, and broke up in 2004. Now all these years later they have rekindled their romance and got engaged AGAIN in 2022. And if there's one thing the internet loves, it's star crossed lovers. The memes and predictions took social media by storm, and we are all asking ourselves if this time will be different. 
Rhianna & Her Baby
Rhianna earned herself a spot in our list of the most viral social media moments 2022 with her pregnancy announcement. Donning a pink quilted Chanel coat, tens of thousands of dollars in jewelry, and her bare pregnant belly, the internet went wild for Rhianna's incredible pregnancy announcement. And it didn't stop there. She continued to wow her fans on Instagram with the coolest, chicest, fiercest maternity outfits you could imagine. 
Kendall Jenner & Her Cucumber
Tell me you've never had to cook for yourself without telling me you've never had to cook for yourself. Enter: Kendall and her cucumber. As Kendall Jenner tried to cut a cucumber on an episode of The Kardashians, it became immediately clear to EVERYONE that this girl has never had to cut a vegetable in her life. Naturally, the clip became a viral sensation. Her bizarre hand placement and her inability to hold the knife correctly really hammered home how the Kardashian clan lives in a world that is very different from the rest of us.
Tariq and His Corn
In one of the most heartwarming moments of the year a young boy named Tariq interviewed with Recess Therapy where he gushed about his favorite vegetable–corn. He shared all of his reasons why he loved the vegetable so much (especially when it's slathered in butter!). The video went viral amassing over 10 million views and South Dakota even named him their "Corn-bassader". It really doesn't get any sweeter or more wholesome than that.
Those were the biggest viral social media moments of 2022, so cheers to 2023 and a new year of viral social media moments!
Previous Article
A Hashtag Guide for Direct Sellers
Next Article
Your Facebook Playbook: Marketing Features to Use in 2023
You may also like