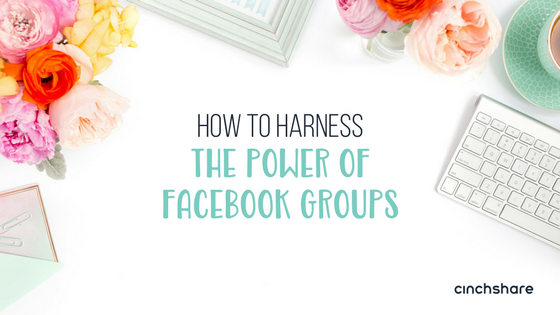 Direct Sales
A true story about the power of having a Facebook Group.
You know the saying: "Everything happens for a reason"? Well, we believe that to be true here at CinchShare and we're going to explain why by telling you a little story about how managing a Facebook Group can bring forth amazing opportunities to help…
Published: Sep 10, 2022
You know the saying: "Everything happens for a reason"? Well, we believe that to be true here at CinchShare and we're going to explain why by telling you a little story about how managing a Facebook Group can bring forth amazing opportunities to help others and change lives! Here's CinchShare's Creative Director, Heili's, true story about the power of having a Facebook Group: Once upon a time…way back in 2011, I created a Facebook Group for healthy living after I became a distributor for a natural supplement. As a network marketer and new mom, I used this Facebook Group as my sole source of sales by funneling people to it through my Timeline, working entirely from home on my laptop. Every day I did the same thing: I would put a CTA (Call-to-Action) on the majority of my public Timeline posts that let people know if they liked the post and wanted to learn more about how to live a natural and healthy lifestyle, that they are welcome to join my free Facebook Group (with the link to join, of course.) I wouldn't post about my products, but I 
would
 post exercises, healthy recipes, natural alternatives to cleaning with chemicals, etc. Basically, I shared whatever content related to the topic of healthy and natural living that I found on Pinterest, Facebook and YouTube that was of interest to me. This is how I grew my group which resulted in being successful in my business and led to me meeting my best friend and acquiring my dream job. Wait, what? It's true. Keep reading! Jennifer, the CEO and creator of CinchShare, joined my Facebook Group back in 2013 after seeing one of my Timeline posts with the CTA. She noticed what I was doing in the group, how I would apply the 
80/20 rule
 with 
content marketing
 and only show a product post every few days and host an event in my group every two weeks to share about my products. I was sure to make my posts personal, kind of like a diary of my journey and experiences, and after chatting in the comments and PMing each other, Jen and I became fast friends after she got to "know, like and trust" me. Jen wanted to make an extra couple hundred dollars a week so she could send her daughter to full day Kindergarten so she signed up on my team and created her own healthy living Facebook Group. It was easy for her to get it going because she simply focused on 
being authentic
 and shared her own stories and life with her group members. Building relationships on Facebook is the BEST way to connect and make sales without even trying – seriously, when people like you, they will buy from you! There was a bit of an issue, though. Jen quickly saw how time consuming it was to post manually all day and night to work her new business. She tried a few different scheduling software to give her more time to spend with her four kids, but they were all too cumbersome and took too long to set up a single post. Needing something more user friendly, she had her husband Joel (pretty convenient that he's a web developer!) create a basic scheduler with her so she could get it all done quickly while her youngest was napping. Can you guess what this 'basic scheduler' has evolved into? Yep! CinchShare! Jen and Joel saw the opportunity to help others (ahem, like me) save time and work smarter, so they decided to focus on making CinchShare their mission in life. Once the features were all set, Jen and I used CinchShare to 
schedule our content
 and shared it with our team and the company and through word of mouth CinchShare spread to thousands upon thousands which led to us both working full time doing what we love, which is helping others with our software and social media training. Through our friendship and working so well on a team, having me join them on this incredible ride was the perfect fit! Grass-roots marketing on Facebook has allowed us to grow and be successful and although we are no longer with a network marketing or direct sales company, we still apply 
everything
 we did as distributors and consultants to our 
CinchShare Facebook Party & Marketing Training
 Facebook Group and how we run CinchShare on Facebook.
Here's what we do every week and you can too!
 Post in your Facebook Group daily. Post anywhere from 1-3 posts and alternate your post type (image, link/video, status) to keep things fresh and interesting! We schedule ALL our posts so that we're able to work on other projects and focus on engaging with our members when they comment in the group. Remember to apply the 80/20 rule!
Funnel your audience from other places into your Facebook Group. We post on our Business Page and in our free public trainings every week (which are our version of a Facebook Party) we have a post to join our CinchShare Facebook Party & Marketing Training Facebook group. We also schedule tweets to Twitter, pin our FB posts from our CinchShare history to Pinterest with our FB Group url, and schedule to Instagram with CTAs to join our group. We add a bunch of new members daily thanks to these simple steps!
Be present in your Facebook Group! This may sound like a no-brainer, but managing a group means that you have to actually manage it, so be sure to check in several times a day to see what's going on and when someone comments on a post REPLY to them! They are taking the time to build a relationship with you so take advantage of that and start a conversation by asking them questions so you can see how you can be of service to them. Get to know your peeps!
Make it a fun and friendly environment. Of course no one wants to be in a Debbie Downer group (no offense to any Debbies!) so be sure to include funny memes and videos and lighthearted topics as well as any contests or giveaways you can offer monthly. Everyone loves freebies and winning along with good ol' happy mail.
Stick to the FB Group etiquette rules! Yes, there are rules. We encourage our group members to invite their teams and friends to join the CinchShare Facebook Party & Marketing Training Facebook group but as with any group, you do NOT want to add people or have anyone else add people, without their permission. This will only bring the group down as those who don't want to be there can report it and while your numbers may increase, your engagement will decrease – remember it's quality over quantity! Also, do NOT keep changing your group name or visibility settings as this will confuse and discourage group members from remaining in the group. Unless you are doing a rebrand, leave your name alone! We suggest having a closed group so members feel exclusivity and know that what they are posting in the group remains within the group's virtual walls because nosey Aunt Beatrice doesn't need to know everything 
If you have a Customer VIP Group or a Team Group, the same strategy applies. You still don't want to only post about products in there because even though you love them and believe in them and live, breathe and sleep thinking about them, not everyone else does. Your goal is to build relationships through content marketing and be a resource, provide value and keep them interested in checking into your Facebook Group a few times a week to see what you have going on in there. And, please, please, please do not worry about the crickets! If you have a pretty new FB Group and no one's commenting on anything you post we know that it's easy to become discouraged. But fear not! It takes awhile for people to come out of their shells (remember, many people online are introverts – like Jen! – and they take a bit of time to warm up.) In my group I didn't see a spike in activity until I reached about 400 members then they wouldn't shut up lol. It was great! So keep posting, keep being yourself, and they will start to engage, we promise! We hope our story about how Jen and I met in a Facebook Group helps you to see the amazing opportunities groups can create for anyone. If I hadn't had a group, or shared about it, Jen never would have joined and we never would have met. Crazy to think about it all and I honestly am so thankful with the way things have worked out that I still, five years later, pinch myself that this is now my life. We absolutely LOVE what we do – we wake up every day and can't wait to see what you're up to on Facebook and how we can help. It's a fantastic feeling to get to know our group members and become friends nevermind that it's like a party every day online. So FUN! Facebook Groups are where the magic happens. If you don't have your own, 
get to creating one today
 and you'll see amazing things happen for you and your business too!
Previous Article
Why Facebook is the #1 Social Media Platform for your Direct Sales Business
Next Article
7 Reasons Why Facebook is the Place to Party!
You may also like