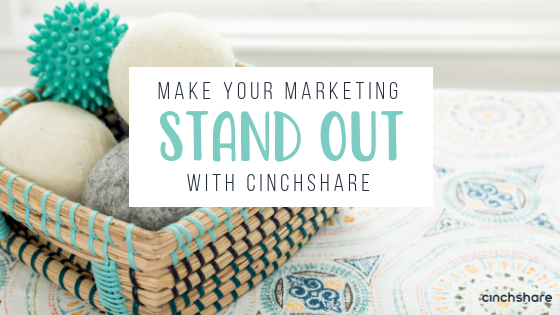 Marketing
Stand out with these unique marketing strategies
Standing out on social media takes a bit of finesse. You have to come up with ways to be authentic and set yourself apart so that people are drawn to you. Aside from having your own unique logo and/or branding colors, you can also post in different ways that provide…
Published: Sep 10, 2022
Standing out on social media takes a bit of finesse. You have to come up with ways to be authentic and set yourself apart so that people are drawn to you. Aside from having your own unique logo and/or branding colors, you can also post in different ways that provide visual interest to your audience which will make them take notice and look forward to seeing more of your content. CinchShare has several advanced features that can help you take your marketing strategy to the next level!
#1 – Download the CinchShare app – work anywhere, anytime!
If you are already a CinchShare user, you will want to download the CinchShare app to your mobile device! You can completely schedule on the go, take your "office" with you and work from anywhere! You will simply need to download our FREE CinchShare App from your Apple Store (iOS) or Play Store (Android). If you already have the app, consider this a reminder to update your app to the most current
 version so you can experience all the cool new things the app can do!
**The app only works for current CinchShare users, you must have an active CinchShare account for the app to connect to.** If you're not yet a CinchShare user, you are welcome to check us out with a 37 day free trial! First go to 
cinchshare.com
 and enter the promo code CinchFree when creating your account, then you can download the app!
#2 – Design with Canva button
We integrated Canva, an amazingly simple DIY design software, so that you can create content that is authentic to your brand that will definitely set you apart from others. With our "Design with Canva" button, you can select your design style, create your own images, and schedule them all in one place! It's a really user-friendly software just like us!
We even have a 
YouTube playlist
 for you to check out short tutorials just in case you needed a little guidance.
#3 – Custom Album
Did you know that you can 
create a Custom Album
 on your business page and schedule it to showcase multiple full size images directly within your Facebook parties? Your guests will be able to view your images while remaining in your party instead of being taken to your website or catalog where they may not order and most likely won't return to your event. Using Custom Albums in your parties will also help you avoid Facebook jail! It is liter
ally a photo album you can create on your FB Business Page and share over and over again to FB Parties, through Facebook Messenger, Customer FB Groups, etc!
#4 – Multi-Photo
With CinchShare's 
Multi-Photo feature
, you can schedule up to 10 photos on a single post. This is a great way to share product line categories at one time. For example, if you sell health/beauty products, you can showcase skin care in one multi-photo post, and then hair care product in another multi-photo post later on in the party. It's a fantastic way to do some suggestive selling in a focused environment that keeps people from feeling overwhelmed.
#5 – Scheduling and Posting to Instagram
You can easily plan and prepare your Instagram posts on your computer or mobile device, the choice is yours! When your scheduled Instagram post is ready, you'll receive a notification on your mobile device. You must manually move the saved content by clicking "Post Now" for your post to show up on Instagram. Then press and hold in the caption on Instagram to paste your pre-scheduled post message. Check out these other 
awesome features that go along with our Instagram scheduling: – Schedule to Instagram – Schedule Multi-Photo posts to IG – Grid View (see your entire IG grid in advance) – Drag & Drop (move things around on your grid to make it pretty!) – Repost (share content from other IG users) – Post Attribution (automatically give post credit to whoever you are sharing the post from)
Learn how to do all these Instagram features 
here!
#6 – Pin to Pinterest
Pinning posts to Pinterest
 from CinchShare is super fun and easy and will keep you from getting totally distracted on Pinterest for hours! We have all been there, LOL! Stay focused and work smarter by pinning your content through CinchShare. You will reach a whole new audience and can easily guide them back to your Facebook business page, VIP group, blog or YouTube channel – the choice is yours! Gain new followers and potential customers
 while also having fun!
#7 – Schedule Tweets to Twitter
Here's another way you can reach an entirely new audience and really stand out! If you are already posting something to your Facebook Business Page, you can just click on the Twitter button and send it to Twitter at the same time! You can even recycle past posts by batch posting and "shuffle" your tweets to Twitter with CinchShare! Check out our 
playlist of Twitter tutorials
 and be sure to follow us 
@CinchShare
We can't wait to see your awesome and unique content out there. Be sure to let us know how it's going by connecting with us in our 
CinchShare Facebook Party & Marketing Training
 Facebook group!
Previous Article
Twitter Tips from A to Z!
Next Article
Free Done-For-You Direct Sales Branded Graphics
You may also like