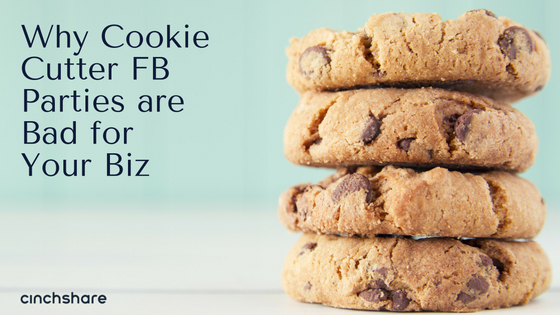 Direct Sales
Why Cookie Cutter Templates for Facebook Parties are Bad for Business
Who doesn't love a nice, warm, gooey cookie? Yum! But what happens if you're too quick to mix the batter and leave out a key ingredient or worse yet, forget they're in the oven and burn the whole batch? Much like the perfect cookie, Facebook parties…
Published: Sep 10, 2022
Who doesn't love a nice, warm, gooey cookie? Yum! But what happens if you're too quick to mix the batter and leave out a key ingredient or worse yet, forget they're in the oven and burn the whole batch? Much like the perfect cookie, Facebook parties take time to prepare and serve which is why using a cookie cutter template can really hurt your business. Here are the three main reasons why:
1. Let's face it, they're pretty spammy.
If there's one thing Facebook really can't stand, it's spam. Using a template and posting the same exact content over and over again trips the spam filters and results in blocked posts as well as potential Facebook jail for your entire account. It's definitely not good social media etiquette, and is disrespectful to the Facebook community by acting "cookie cutter-ish" and blasting out the same content in all your parties. CinchShare does not condone the 'set it and forget it' mentality. We want you to tend to your posts and bake your content thoroughly.
2. They foster and encourage NO originality.
When you schedule an entire party and don't change up any of the posts your guests are likely to notice as over time your genuine enthusiasm will dissipate. CinchShare integrated Canva into our software so that you have the ability to easily design your own amazing content and schedule it right into your parties. We encourage you to engage with your guests and scheduling posts for your party makes it easy to be the attentive and personable host everyone will love. So switch things up, use your own images and be present – this way you'll set yourself apart from the mold which will result in more bookings – just by keeping things fresh. No one likes stale cookies!
3. Your posts can go POOF!
When apps get shut down by Facebook ALL of the posts that were delivered get removed and no additional posts can go out. Imagine running a party on Facebook where all of a sudden, halfway through, you and your guests are suddenly staring at a blank wall. Catastrophic! That is exactly what happens when Facebook takes immediate action against 3rd party apps which are producing too much spam. Don't be a statistic and get burned! So that's why CinchShare's recipe for success doesn't include a template. We encourage and provide a tool-set that supports our users to think outside a template. To be thoughtful of what they post as opposed to producing overly repetitive cookie cutter parties. A "set it and forget it" approach may seem like a simple way to get ahead, but in the end it is your parties that suffer! Take a close look at the leaders that are successful utilizing social media in your organization and what you will find is that success is something that is earned, not achieved on autopilot. We at CinchShare focus our strengths on creating features that act as your virtual assistant, helping you grow your business by producing quality over quantity in as little time as possible. Take it from 
Jilleysue
 who knows her social media and direct sales markets! She says, "Originality and authenticity are key when it comes to building relationships using Social Media. People do business with businesses and people that they know, like and trust. The only way to build that trust is by becoming someone your fans and followers can relate to. That means creating your own content, your own posts, in your own voice and trusting that people can relate to your one of a kind personality. Believe that your voice online is special and you will attract your ideal customer." If you'd like to learn more about social media etiquette and proper Facebook party formulas, join our free group on Facebook: 
CinchShare Facebook Party & Marketing Training
!
Previous Article
Be Visible with a Facebook Business Page
Next Article
Why Direct Sellers Shouldn't Be Sharing ALL Their Content
You may also like