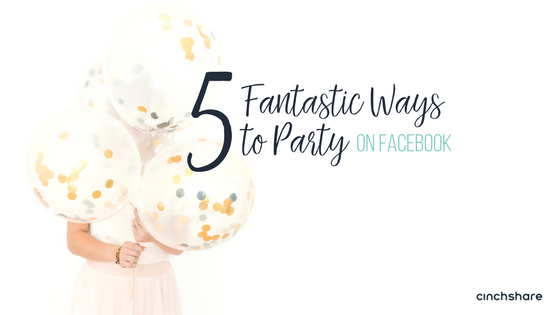 Direct Sales
5 Ways to Throw a Facebook Party
Whether you're a direct sales veteran or a newbie just starting out on your awesome journey, we know you're looking for ways to grow your business online. The best and most successful way to expand and build a great customer base is by throwing Facebook…
Published: Sep 09, 2022
Whether you're a direct sales veteran or a newbie just starting out on your awesome journey, we know you're looking for ways to grow your business online. The best and most successful way to expand and build a great customer base is by throwing Facebook parties. Whether you call them socials, pop-ups, online boutiques, workshops, classes (we call ours trainings), they are fantastic ways to share about your products on Facebook! Of course we all love a great home party where the host invites all her neighborhood friends and those will never go out of style, but throwing virtual parties opens up an infinite amount of possibilities and we're going to share what a few of those are and five different ways to party on Facebook so you can see which one (or two!) work best for your business.
Five reasons why FB parties work:
Partying in your pjs is pretty sweet. People like the fact that they don't have to leave the comfort of their own home. After a long day of doing the mom thing, the wife thing, the work thing and the house thing, the last thing we want to do is have to get gussied up to go out on a school night for a home party. Facebook parties can take place any night of the week which is many times way more appealing to both the host and her guests because let's face it, adulting is hard and being on Facebook is easy. So easy in fact, that your host can invite her friends and family from ANYWHERE which means that you don't have to stick within your town limits!
Yes, this is what it's all about: Expanding your horizons! Your host can invite people who she knows will be interested in your products because she'll have more people to choose from which in turn means more sales and bookings for you!
 This leads to HUGE opportunities! For example, let's say your host Becky lives in Florida but her cousin Kate lives in Ohio and guess what? Kate had such an awesome time at Becky's FB party that she wants to book a party with you and invite her FB friends and family (who mostly live in Virginia, by the way).
Suddenly you find that you now have customers in three states. Nice job! And that's not where it ends, no ma'am. This is just the beginning! You are throwing Facebook parties like a boss because you're able to cater to your hosts' needs and together you are making her guests happy and super impressed with your flexible schedule, fun party script and of course, your awesome products!
Just like a home party, you want to entertain, provide value and be of service. What's fantastic about virtual parties is that you have the ability to throw more than one at a time while still giving your guests your complete attention. We know a bunch of consultants who are throwing 10-15+ parties a month online and we love that we're able to help make that a possibility with CinchShare's Batch Post feature! So while home parties are still amazing… we're pretty confident that adding Facebook parties to the mix will help your business BOOM.
What we also love about partying on Facebook? All the different ways you can do it! We're going to narrow down the endless options to our 5 favorite ways you can throw a FB party because they seem to be the most popular AND the most successful. Great combo, right?! Let's see which one is calling your name….
Five different ways to throw a Facebook party:
1. A 30 min quickie party
no we're not talking about that, get your mind out of the gutter! We're talking about a quick party here!
 – this type of party is really all about getting the product out there for the host and guests who are super duper busy and just want the info coming to them straight. You definitely want to have the standard pre-posts, we recommend one to two a day for a few days prior to the "live" portion of the party, and then during the 30 mins, have no more than 5 posts which can be in the form of video and image type posts (we love using 
Custom Albums
 for this) as we don't want to overwhelm them. Finish up with a couple post-posts to thank them and let them know how they can order and when the party officially closes.
2. A 1 hour party
This is the CinchTeam's favorite type of Facebook party! Every Tuesday night we follow this formula in our 
free public trainings
 which are our version of the FB party. We schedule all our posts and alternate the post type (image/video/status/image, etc.) so that it keeps us free and clear of FB jail and this is really important no matter which type of party you throw OR if you're scheduling or manually posting. Facebook doesn't like it when you post image after image as that could be seen as spam, so be sure to switch things up! For the hour party, space your posts out according to the type – we like 3 minutes for image posts, but have 3-5 mins between our video posts to give our guests enough time to watch and read the comments as well as ask questions!
3. A 3 day party
Good things happen in threes! The 3 day Facebook party is a great one because it allows your guests to have enough time to actually get to the party and catch up on what they missed in the beginning because as we all know, people are busy. So this party type lets them feel like they aren't under any pressure to get there on time. Follow the same guidelines as all FB parties with a few ice breaking pre-posts, alternate your post types during the 3 days to keep things fresh and exciting and close with a couple post-posts.
4. A 1 week party
If you are the type of person who likes to showcase your products by category such as For the Home, For the Kids, etc., the one week party is awesome! You can choose a category a day and focus on posting 3-5 posts that share about those products specifically and really hone in on how they've helped you and your family. Go FB Live to explain how the product works in a demo and of course don't forget the pre-posts and post-posts.
5. A 10 day party
This party is popular and the main reason is because if your guests are paid bi-weekly then they'll have at least one payday during the party and if they are paid weekly then they could have two which means it's time for them to get their shopping on! Remember to not bombard your guests with too much information over the span of the party, meaning don't post more than 3-4 posts per day, and of course you need to make sure – as with any party type – that your host is present and commenting on all posts! We can't wait to hear which way you prefer to party on Facebook! Be sure to let us know in the comments!
Previous Article
How to Share (Not Sell) on your Facebook Timeline
Next Article
How to Stop Landing in Facebook Jail
You may also like