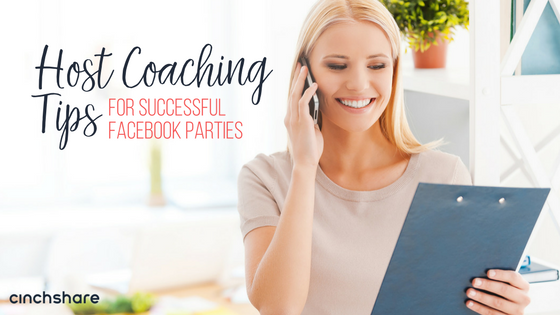 Direct Sales
Host coaching tips for successful Facebook parties
As the consultant, you are the expert when it comes to throwing a party online which means that you need to invest time in helping your Hostess have the best experience and outcome possible with her Facebook party. Properly coaching your Host through the steps of the…
Published: Sep 09, 2022
As the consultant, 
you
 are the expert when it comes to throwing a party online which means that you need to invest time in helping your Hostess have the best experience and outcome possible with her Facebook party. Properly coaching your Host through the steps of the party impacts every part of your business. It affects your sales, it affects your bookings and it affects your recruiting, so it's super important to practice the following tips to ensure that you and your Host are connected and working together throughout the entire process to have the best results! Host coaching can make or break your online parties. We believe in it so much that we created a 
free printable
 to help you track your communication with your Host and give you something to reference as you build your business online using Facebook Parties. Pair it along with the following 12 tips and you are sure to throw the BEST and most successful parties out there!
Tip 1
Be sure to send your Host a hostess packet.
 Yes, we are talking good ol' snail mail here! Every Host you book for a Facebook Party should still receive a hostess packet in the mail with catalogs and other party materials. They will see people who are not online at church, sports practices, club meetings, etc., that can still place an order with them. Don't think that just because she is hosting her party online that she would not want a party pack and catalogs to show local friends. And let's get real, getting an actual catalog in her hands just gets her even more excited about the products and what she can earn for free! The more invested she is in the party as a whole, the better the party results.
Tip 2 Let your Host choose what type of party works best for her.
 Does she want to do a quick 30 minute party where everyone comes together at the same time for a live online party? Or does she want to space it out over a few days or a week so people can check in at their convenience? Having a few options for your Host to choose from will help her to say yes to having a Facebook party with you. 
Check out this blog
 where we share 5 different party length options: 30 minute party, 1 hour party, 3 day party, 1 week party and the 10 day party! Regardless of which party length(s) you offer, you can completely pre-schedule the entire party using 
CinchShare
, thus allowing you to be there to engage with your attendees verses searching for what to post next.
Tip 3
Have her choose a fun theme!
 It doesn't matter if you're throwing a party at your host's house or on Facebook, the goal is the same: to make it so incredibly fantastic that her guests are placing orders like crazy and begging you to book a party of their own! It's easy to knock their socks off when you create a one-of-a-kind theme party and 
here is a year's worth of theme party ideas
 for all seasons of the year, you could do a different theme every week! Once she chooses a theme, you can easily create your own party posts using the Design with Canva button inside your CinchShare account!
Tip 4
Communicate with your Host through video.
 We highly encourage you to pre-record 3-5 Facebook Party Host Coaching videos to send to your party hosts/hostesses each time. These videos should be short and to the point, usually 2 minutes or less. You can communicate what you want her to know in what is called "just in time information", what does she need to know right now? Video examples: • 'I'm So Excited' video where you let her know how excited you are to be her party consultant and how you are committed to making this a super fun and successful event for her and her friends. • 'I Set Up Your Event' video where you let her know that you set up her FB Party, made her a co-host and now how to go about inviting her friends to the party. • 'Outside of FB' video where you share party tips for collecting orders using her party pack from friends she is seeing face to face. • 'Party Day' video where you connect with her the day of the party for last minute tips to make her party amazing. •'Closing the Party' video where you check in with her about tips to generate last minute sales and the steps of closing the party and order delivery. Here's a super sweet 
FREE printable
 to help you narrow down which videos you want to create for your Hostess Coaching communications!
Tip 5 Keep enticing your Host!
 Be sure you are dropping seeds about your business opportunity with your Hostess regularly during your Host Coaching communications and talk to her about the financial rewards, the fun, the friends you've made, the travel, the perks, the discounts, the awesome free product, etc. Aside from hosting a Facebook party, you want to view her as a long term customer and possible recruit so include her in on your awesome lifestyle that is a possibility because of your business!
Tip 6
Communicate 3 days prior to the party with the main focus being attendance.
 Make it easy for your Host to invite people to the party, give her the party link to share and remind her to reach out to her friends. We all have friends that we use specific methods of communication with, some we need to text, some we need to email. We know our friends preferred communication methods and your Host knows this about her friends too. Give her the link and a few quick tips and let her do her thing!
Tip 7
Give her an AM pep talk!
 Whatever party timeline you choose, you need to communicate with your party host on the morning her party is to start with some last minute tips, but more importantly, some last minute encouragement. If you have ever been a party Host, you know the stress of trying to make sure the party doesn't flop and people actually come. Your job the morning of the party is to put her mind at ease, get her excited about her party and help her do her reminders. You are helping her focus on shooting for 25 people RSVPing for her party, we really want a minimum of 25 people who WANT to be there and who CHOSE to be there. Coach her to send the party link to her friends so they can just click on the link to get to the party, making it easy for them. You might even consider giving her a free gift or reward when she has 25 RSVPs as going.
Tip 8
Get her pumped
thirty minutes before the party goes live.
 Your Hostess is going to be excited and anxious at the same time so you want to calm her fears and build the excitement factor. Praise her for getting the 25 RSVPs for the party, reaffirm for her how awesome the party will be and how much fun her guests will have and then walk her through her role for the party. Encourage her to LOVE (not like) the party posts, to comment regularly and authentically, and if she sees something a friend would really love or something they need to tag them on it!
Tip 9
Stay connected when the party is live. 
Be in communication with your party Hostess on Facebook Messenger and ask her to keep it open throughout the live party time so you two can connect quickly. This has been such a party lifesaver for many seasoned Facebook Party Consultants. It allows you to talk with the Host during the party, answer her questions, provide in-the-minute Host Coaching tips while the party is going on, encourage her, praise her and, bottom line, it puts both of you on the same team and it shows her you are there and working for HER that night!
Tip 10
Post an easy to engage with introduction post.
 If you are doing a live party for 30 minutes or 1 hour, it might take a few minutes for the party to really get jumpstarted as people are trickling in and this is when your party host might start to freak out a little. Be sure to let her know this is normal and that she may want to reach out to a few friends who said they would be there but unintentionally might have forgotten. Help her out by posting something early on that invites the guests to respond right away, something they WANT to respond to, and make it easy for them to respond. When you post something like that right away that guests engage with the party host knows who is there and who is not, so she can start her last minute "party starting!" messages to those who are not there yet. And let's be honest, the more engagement and interaction you can get on a party, the better the party.
Tip 11
Be sure to build her up! 
Since you already have your Host pulled up on Facebook messenger, be sure to send her a 'great job', 'loved your friends', 'I had so much fun' message to reaffirm and encourage her a few minutes after the end of the party. This is all part of the continuing to make her feel confident and keep her engaged with you. In this message, you can also let her know the next steps like how long the party will remain open and anything else you need her to know that night.
Tip 12
Keep in touch with your party Host.
 Let her know where she is on party sales, what she has earned so far and then what she needs to get to the next reward or level. Where is she on outside orders? Where is she on party bookings? Who has already placed an order? By communicating this information to her she is better able to know who she still needs to reach out to that said they wanted to order and she may also be incentivized to work for the next reward level. And that's a wrap! We hope you put these 12 tips into your host coaching routine so you can not only make your Hostess feel included every step of the way but also throw the most successful Facebook parties ever!
Previous Article
3 Strategies To Finding Free Vendor Events
Next Article
3 Videos Every Direct Seller Needs to Make
You may also like