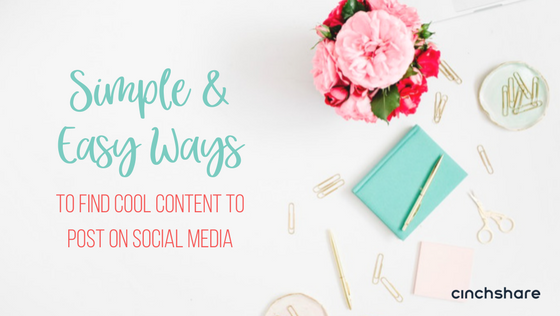 Marketing
Simple and easy ways to find cool content to post on social media
With algorithm changes happening left and right on your favorite social media platforms, your head is probably spinning by now about what to post and where to find interesting content to share. We totally get it. Helping you simplify social is our JAM! One of the…
Published: Sep 10, 2022
With algorithm changes happening left and right on your favorite social media platforms, your head is probably spinning by now about what to post and where to find interesting content to share. We totally get it. Helping you simplify social is our JAM! One of the questions we get asked a ton is 
where
 to find stuff to post. Lucky for you, the interwebs are bursting at the seams with valuable content, you just have to know where to find it.
Inspiration is all around you
So how do you go about finding content to market your business? It's easy! You know what catches YOUR eye when you're online, so start there and keep your audience in mind when you're on the hunt. Here are our favorite places to search:
Pinterest
We love 
Pinterest
 for amazing blog posts, recipes, life hacks and tutorials. Pinterest is not just for collecting pretty pictures. It is a massive search engine with millions of users who are ready to buy. Now that you have your content organized, match your categories in Pinterest and get to pinning! Create boards that correspond to your categories and follow boards that match your interests.
Pro tip for Beauty/Skincare Direct Sellers: Search "beauty tutorials and beauty hacks" for endless blog posts and infographics to share with your audience. Infographics are super helpful visuals to share that people love.
Instagram
Are you on 
Instagram
? Did you know you can save Instagram images to a collection for your eyes only? Start some Instagram collections with your category names and go back to them and drop them in CinchShare or add them to your monthly content calendar.
Pro tip for Fashion/Accessory/Jewelry Direct Sellers: Instagram is a perfect place to find and connect with social influencers and bloggers. Hashtags are used to categorize content and users who follow that content. Tap the hashtags that you use or that are used on some of your favorite Instagrammers' posts and see what images and accounts come up. Now you can follow hashtags and when you do, others will be able to see your posts who follow that hashtag. Check some of them out to find new images, sources, blog posts and influencers to follow.
Facebook Fan Pages
Do you follow the fan pages of your favorite brands or companies? (Don't forget to follow us on 
our Facebook page!
) That cool video or recipe that came across your feed might be interesting to your fans. Tap the like button and subscribe to some fan pages so you can have a constant flow of interesting and engaging posts and video to share.
Pro tip for Cleaning/Homewares/Book Direct Sellers: This is where the world is your oyster. Save those life hacks and mommy blog posts that come across your feed.
Your Online Community
Are you in a public Facebook group related to a certain interest like Whole 30 or new moms? You are sitting on a wealth of killer resources right there. Ask questions and scroll through the group for any posts or videos that you can share out.
A Picture is worth a Thousand Words
Images are amazingly powerful and are a great way to connect your message to your audience. A gorgeous photo can spark engagement questions or help communicate it. We absolutely love finding fun images to play with. Here are a few of our favorite sources:
Store Your Content in CinchShare
If you're always on the go like we are, the Save feature is a great way to store content in CinchShare that you see online and want to schedule later. Waiting in line at the grocery store or at the school pick-up line, the 
Save
 feature shaves off time you'd be spending later finding content – why not be productive and organized when you have a few minutes to spare? You can save literally anything: posts on Facebook, pins on Pinterest, hashtags, ideas, party posts, images you'd like to recreate yourself later. The possibilities are endless!
Show it all off
Social media is fun, but we know it can be exhausting at times. Our goal at CinchShare is to make social media simple and social again. Show off your hard work and tag us #cinchchallenge on your posts. We would love to see what you are up to and engage with your cool content. Need more ideas? We created a month of ideas for 
February
 to make it easy for you!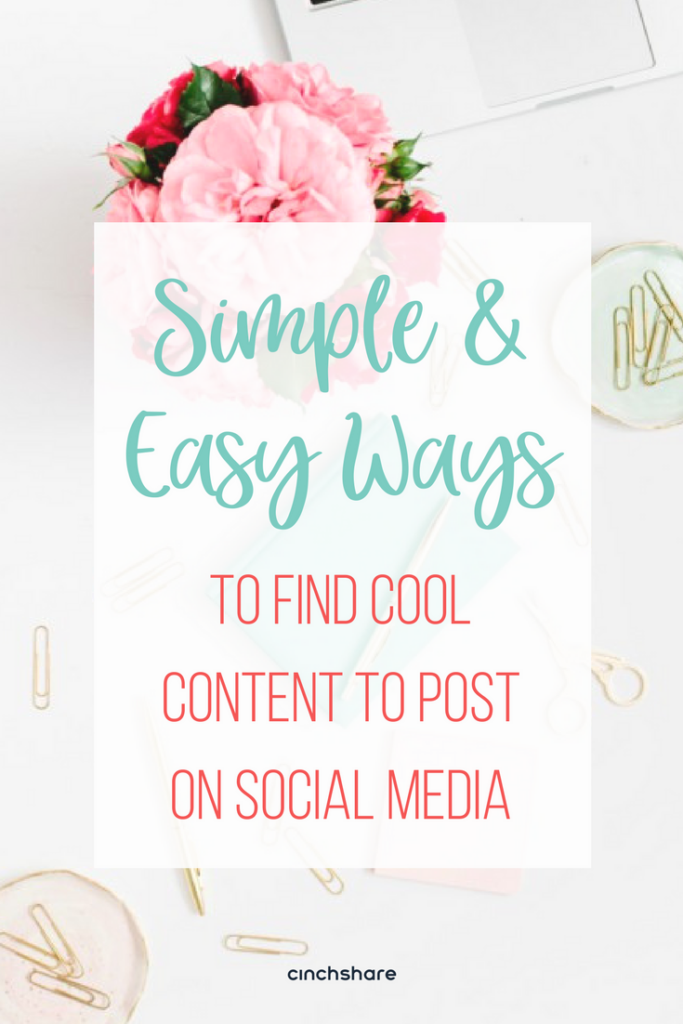 Previous Article
A Direct Seller's Guide to Instagram Marketing: Part 1
Next Article
A simple guide to blogging
You may also like