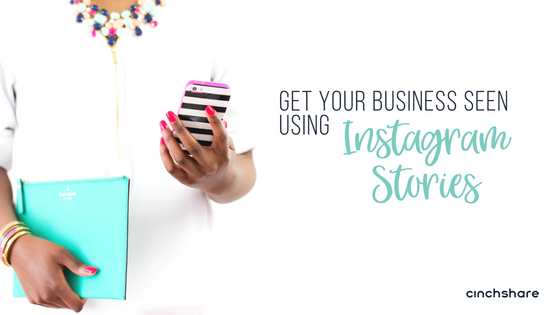 Direct Sales
Get your business seen using Instagram Stories
Here's the truth, if you have been waiting to get on board with Instagram Stories to see if it is just a social fad, you need to jump on the bus before you get left behind. Instagram Stories aren't going anywhere! In 2017, Instagram Stories overtook…
Published: Sep 10, 2022
Here's the truth, if you have been waiting to get on board with Instagram Stories to see if it is just a social fad, you need to jump on the bus before you get left behind. Instagram Stories aren't going anywhere! In 2017, Instagram Stories overtook SnapChat videos in daily users by 25% – 200 million to 160 million. So why should you check out Instagram Stories for your business? They are a blast to watch and create, but they're also an amazing way to get your business noticed and build those super important relationships on Instagram. As of 2018, there are now over 250 million people using IG stories a day, they are 
the
 place to be to share the highlights of your business with fun behind the scenes shots, product reveals and so much more! Check out our other blog post to 
learn how to create a Story
 so you're raring to go after reading this one! As with every platform, there are certain things you need to know which is where we come in – to help you with your business strategy and offer you the tips you need to succeed! Here are ten tips that will make your Instagram Stories really stand out:
1. Get Discovered
Instagram Stories last for 24 hours so there really isn't a "best time to post" which is pretty awesome! They are also 
Discoverable
 which means that you aren't limited to only your current followers seeing them. They can be found by anyone! We suggest that you start off posting one story a day and try to stick to that same time to publish so that your 'instareel" is on a constant cycle.
2. Shoot vertically
The best format for Instagram Stories is shooting vertically so the photo or video fits perfectly into the story window. You can use other sizes and pinch a bit but to make it easy on the eyes and so people don't have to turn their phones sideways, it's best to keep them portrait style versus landscape.
3. Use Hashtags
Just like your Instagram posts in your feed, you have the ability to use hashtags in your stories so that people can find them in a search. Use them wisely! Here's a free hashtags 
printable
 so that you can see which ones work best for your business!
4. Have fun with Polls
Polls are a great way to not only have people engage with you – because who can resist answering a poll? – but they also can help you find out more about your potential customers. Use them strategically in a light hearted way and you'll be golden.
5. Make it about them
Grab a customer who loves your products and have them send you a selfie using/wearing/showing off the product they love and give them a shout out or they can send you a quick testimonial video to put into your Story. If you have a few you can make a series. People love to be acknowledged and appreciated!
6. Tag people
When you are featuring your customers or brands be sure to tag them so they can see that you're giving them a shout out and also so those viewing the Instagram Story can click on their tag and take a look at their account. And, yes, we gave @
lipsbynic
 a shout out in our IG story for giving us a shout out in her IG story!
7. Share Behind the Scenes Footage
Aside from showing a personal side so people can really get to know the real you, sharing your behind the scenes footage when you're at a vendor event, conference, retreat, hanging out in your home office or even juggling the kids, can really help them engage and connect with you. Using short 15 second videos are awesome for this, but keep in mind that less than 15% of Instagram Stories watchers watch the stories with the sound on, so consider making a bunch of "silent films".
8. Include Call to Actions
Always! You know we say this often – no matter where you are posting on social media, you should have a Call to Action so that people feel that they are invited to interact. CTAs can be as simple as "Click on the link in my bio" so they have some direction and know what to do and where to go next. It's a very gentle way of nudging them to do what you want them to do.
9. Give them teasers and freebies
If you've got a new product launching or some awesome news to share on your blog or in your Facebook Group, giving them a snippet of that information will interest them to learn more and you can funnel them to wherever they can get all the details by using the link in your bio. People also love freebies so if you're feeling crafty you can get creative and give them some inspirational graphics or patterns for their wallpaper.
10. Plan ahead 
You don't have to come up with an Instagram Story to post on the fly every day. Make things easier on yourself by 
scheduling them
! It works the exact same way as posting a regular post to Instagram except when you get the notification and open the CinchShare app, you have the option to post to Story or Feed. Click Post to Story and voila!
Now that you have all these fantastic tips to work with, you'll be rockin' your Instagram Stories in no time and we can't wait to see them!
Previous Article
How to Make More Money with Affiliate Marketing!
Next Article
3 Awesome Ways to Use CinchShare's Find/Replace Feature
You may also like