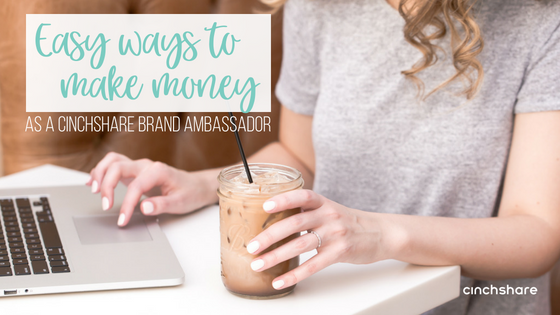 Affiliate
Easy ways to make money as a CinchShare Brand Ambassador
Right from the mouths of babes, we wanted to share how our awesome Elite CinchShare Brand Ambassadors get their referrals with their affiliate links so you can too! Basically, the same concept of content marketing applies to using your affiliate link wisely, just as…
Published: Sep 10, 2022
Right from the mouths of babes, we wanted to share how our awesome Elite CinchShare Brand Ambassadors get their referrals with their affiliate links so you can too! Basically, the same concept of content marketing applies to using your affiliate link wisely, just as if you were posting about your business, so here are their great ideas that you are welcome to use as well!
Be a resource
! Providing value to your team and friends who run their own businesses not only helps them and has them view you as a reliable resource, it can also help you grow your own biz by posting on Facebook, Instagram, Twitter and Pinterest about the best ways to sell and share successfully online. You can use the 
CinchShare Facebook Party & Marketing Training
 Facebook group weekly trainings every Tuesday at 9pm EST as one resource – we'd love that! And you can also share our blog posts, guest trainings and monthly social media challenges so recruits will absolutely feel 100% confident with their new business and sign up with your CBA link when you share it with them!
"I have been a CBA for about two years and I am so blessed to be part of such a wonderful company! CinchShare has been such a huge benefit to me for my business and being a CBA gives me the opportunity to share about it to all my jewelry teammates (and other friends I've met at events.) Cinch offers us the gift of time and convenience and people only know this if/when we tell them!! Who wouldn't love that?! I've found it really easy to include an invitation of the free trial when I post about the awesome Cinch trainings each week on our team pages. And let's not forget to mention the referral rewards we receive for spreading the Cinch love…I use those for treats like movies, Starbucks and goodies for my teammates. I'm a big #cinchfan and it's an honor to be able to promote it as an Ambassador!"
 – Cyndie Gantt Owen Another easy peasy way is to put your affiliate information on your 
marketing material
. Just as you would have your email and social profiles on a business card or flyer, adding it to the rest of your info (or having it stand alone) is a fantastic way to share the #cinchlove! Being a CinchShare Brand Ambassador is essentially a side hustle – so be proud and put it out there for everyone to see when you attend networking and vendor events!
"I think I've been a CinchShare Brand Ambassador for about 2½ years. Time just flies, but I do know that being a CinchShare Brand Ambassador is easier than I would have thought. All I have to do is tell people about CinchShare (which I was already doing), then share my affiliate link with them. I usually share my affiliate link via a bitly link: http://bit.ly/CinchRae. It's quick and easy for most people, whether they're clicking the link or typing it in. I share it whenever I'm networking with other business owners. I even made myself a business card to make it easier to share. It's always fun to find surprise money in my PayPal account. I don't use it for anything special, but it comes in handy paying for vendor booths or networking meetings. What I love most about being a CinchShare Brand Ambassador is that I'm able to help others discover how much easier CinchShare can make their lives. And, of course, they love me for it."
 – Rae Bates
Share it on social 
on whatever social platforms you are using to market your business. Put it in your personal profile bio, in the About section of your business page, in your team group (in the description, file doc or pinned post) and in your Instagram bio (
Linktree
 is a great for this!), Twitter and Pinterest bios too. The more visible it is, the more opportunity there is to strike up a conversation about it and have them sign up!
"I have been a CBA since November 2015. I share my affiliate link through my social media accounts when I mention how much time CinchShare has given me back in my day, and on postcards that I pass out at in-person trainings. The money I've made through the CBA referral rewards goes towards fueling my Starbucks addiction, momma needs her coffee! My favorite thing about being a CBA is a toss up between getting to test all of the awesome new features before they roll out to everyone, and getting rewarded for sharing my love of CinchShare with others!"
 – Julie Anne Satterwhite
Blogging
 is an awesome way to build a loyal audience and grow your customer base by providing value and also being seen as a resource. Use your affiliate link in your blog posts when you're sharing how you save time and work smarter and you'll definitely get those referrals!
"I have been a CBA for about 6 months now. I share my referral link in blog posts and all over my social media channels, because with CinchShare it's easy to do it all the time! My CBA referral rewards go towards many things but mainly back into my business. It's great to earn money for just sharing something that I love! I really love saving time and having more time to spend with my customers."
 – Christin Theiss And remember to 
just be you
. Share how CinchShare genuinely helps you and why you find it a valuable tool for your business and personal life and you'll be sure to have interested team members and friends in the industry asking you to learn more! Don't forget to tag us and use the hashtags #cinchlove, #CBA and #cinchedthis so we can give you shout outs, send you happy mail and feature you in our own marketing material! We love seeing all of your creativity and appreciate your help! Thank you for being the best cheerleaders out there! If you aren't yet a CBA and would like to apply, it's completely free and we'd love to have you join our team – 
click here to get started today!
Previous Article
Supercharge Your Summer with CinchShare's $ummer $ellabration Workshop $eries
Next Article
How to Make More Money with Affiliate Marketing!
You may also like