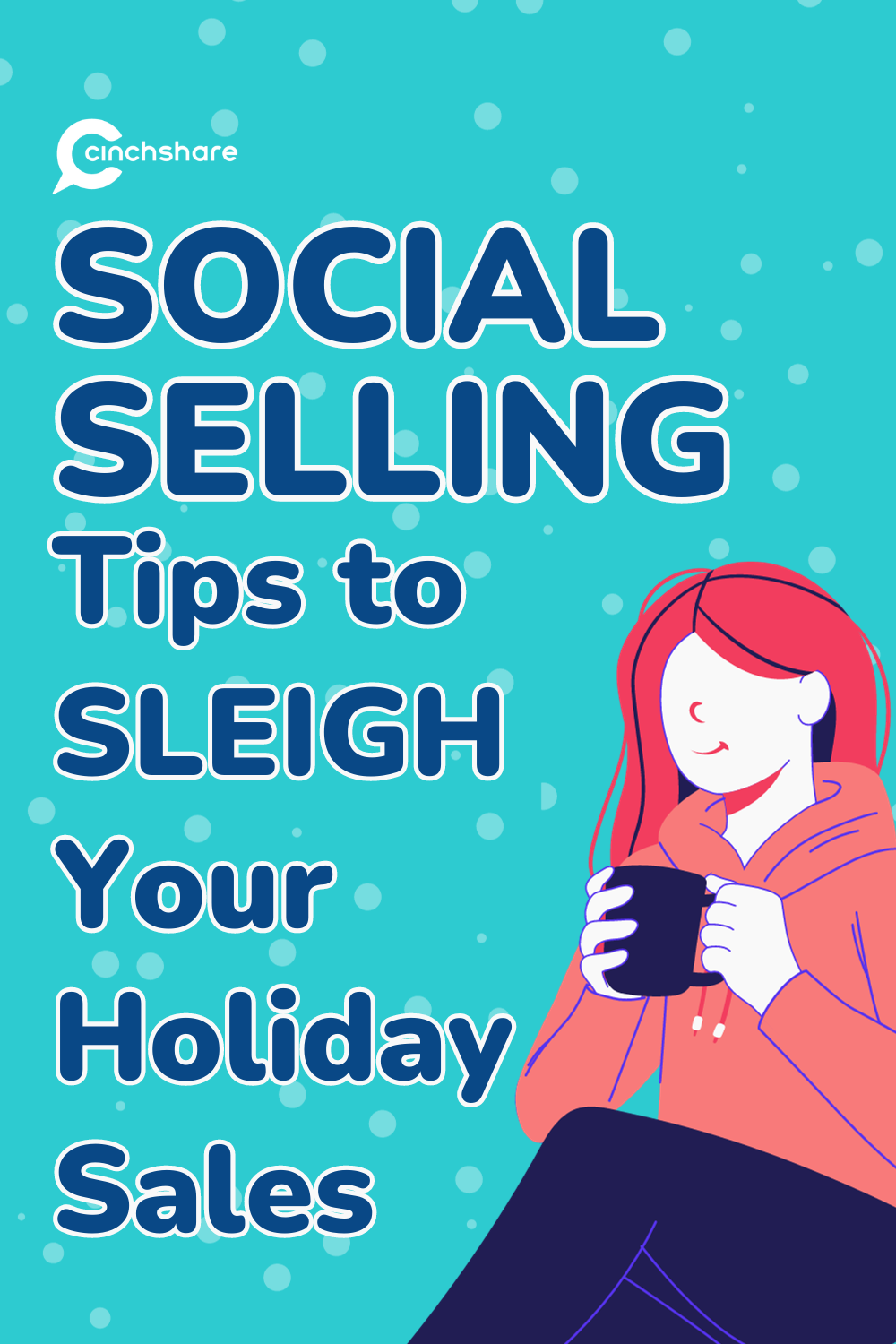 Blog
Social Selling Tips to Sleigh Your Holiday Sales
Jingle Bells! Let's make sales! Awesome tips are here! Now that you're in the holiday selling spirit, we want to help you schedule your social posts for the most fun, the most crazy, and the busiest month… December! These amazing tips will help you sleigh your sales and wrap up this year with the best sales […]
Published: Nov 18, 2023
Jingle Bells! Let's make sales! Awesome tips are here! Now that you're in the holiday selling spirit, we want to help you schedule your social posts for the most fun, the most crazy, and the busiest month… December! These amazing tips will help you sleigh your sales and wrap up this year with the best sales ever!
1) Figure out what to post and when
The most important thing you can do for a successful ho ho holiday season is to plan ahead. And we have everything you need to plan and post consistently for the ENTIRE month!
December content calendar of daily post ideas: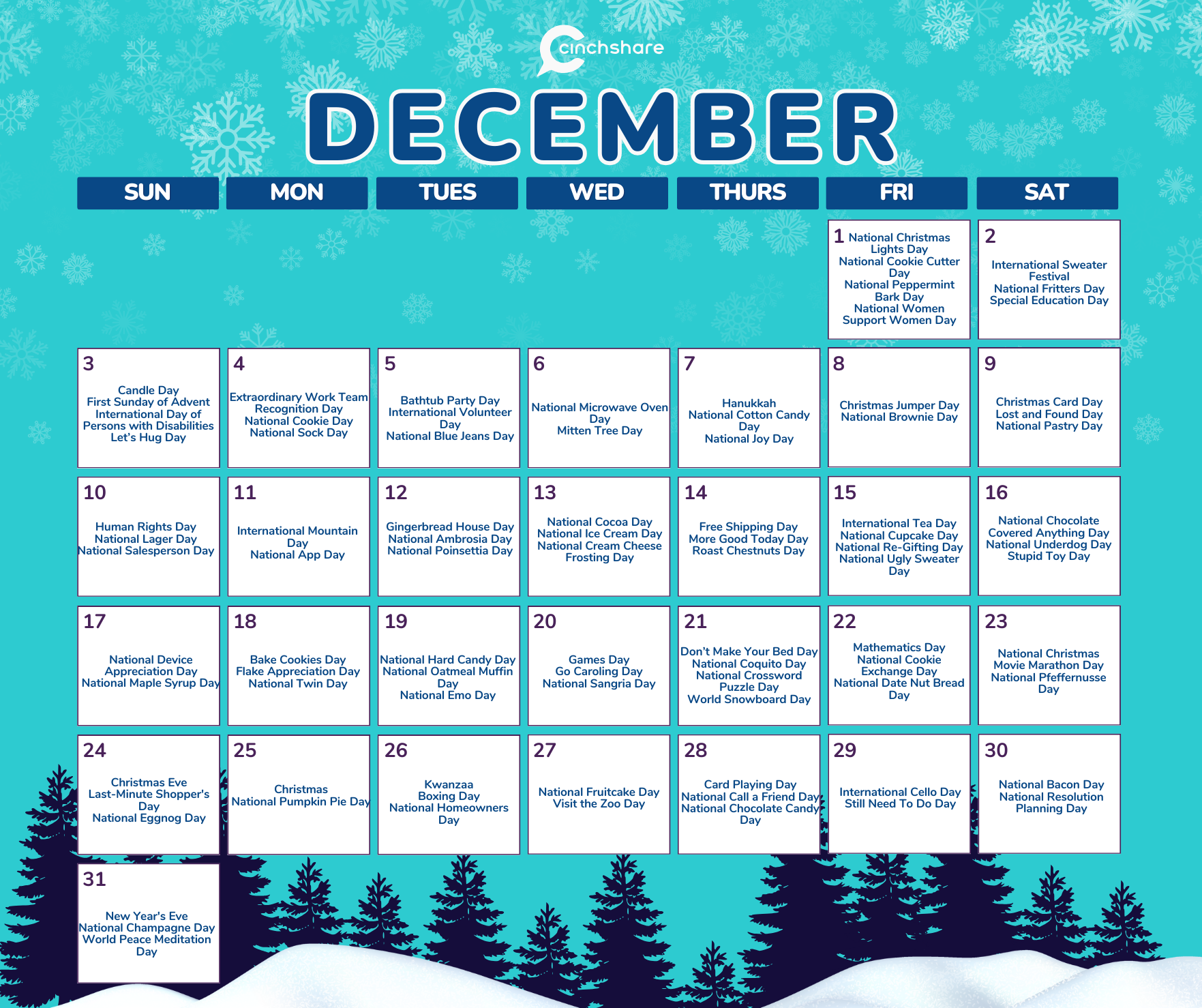 SPECIAL HOLIDAYS AND SOCIAL MEDIA HOLIDAYS IN DECEMBER
December 3rd National Candle Day
December 4th National Cookie Day
December 7th Happy Hannukah!
December 13 National Ice Cream Day
December 15th National Ugly Sweater Day
December 20th National Games Day
December 24th Last-Minute Shopper's Day
December 25th Merry Christmas to all!
December 26th Happy Kwanzaa!
December 31st Happy New Years Eve!
2) Get in the festive spirit and connect with your audience with a flurry of engagement posts for the holidays
One of the best ways to get holiday sales is simply to encourage your audience to talk about the holidays. To cut through the hustle and bustle, we suggest adding a healthy amount of engagement posts to your content schedule. Try posting games, polls, questions, recipes, or word scrambles that get people to engage and interact.
CinchShare offers a FREE Content Library filled with thousands of ready-to-post graphics like these: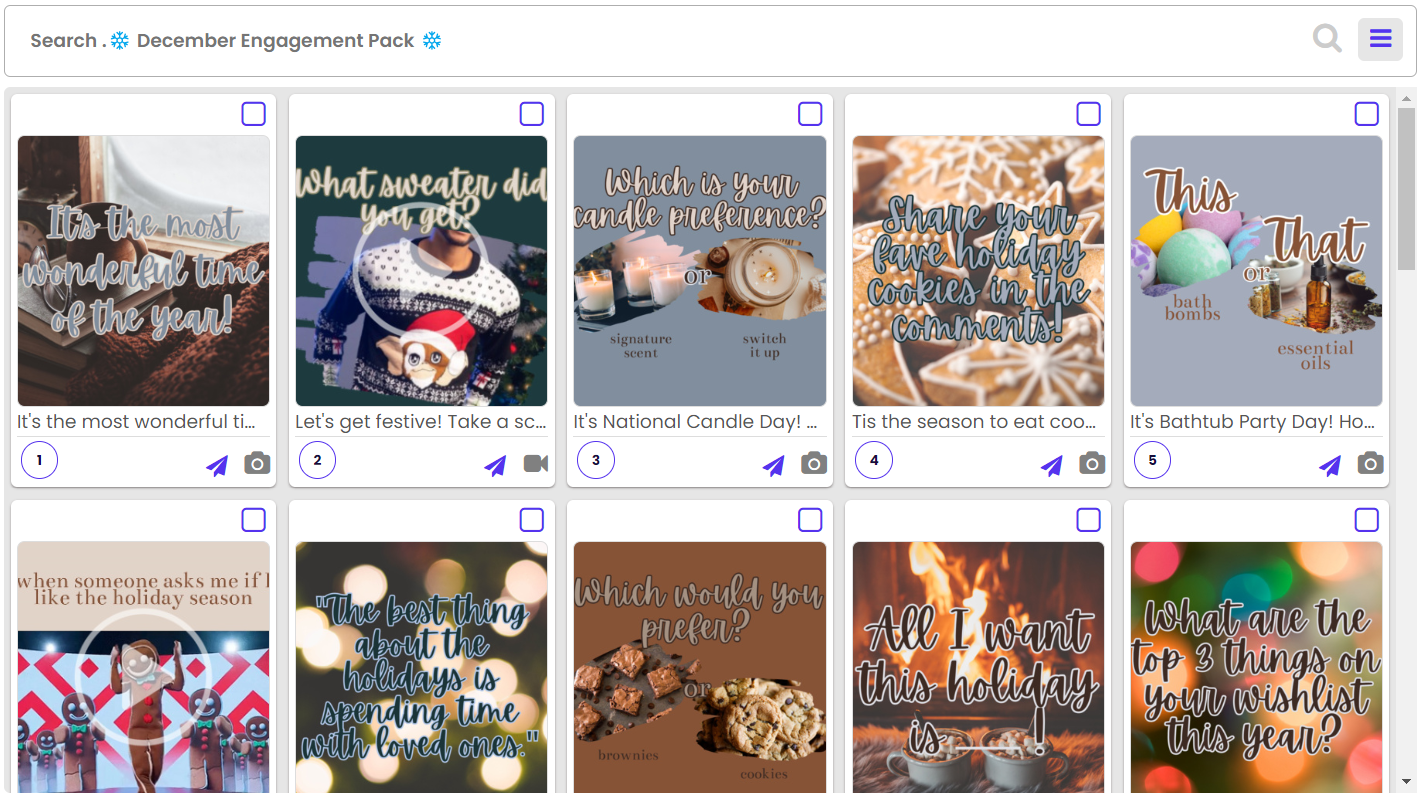 AND our December Content Drop is filled with snow many new themed engagement packs. These themed engagement packs provide you with every kind of can't-resist-commenting post that is tried and true to get conversations flowing and your business growing, all under one cohesive theme!!
Take a sneak peak at our newest Engagement Packs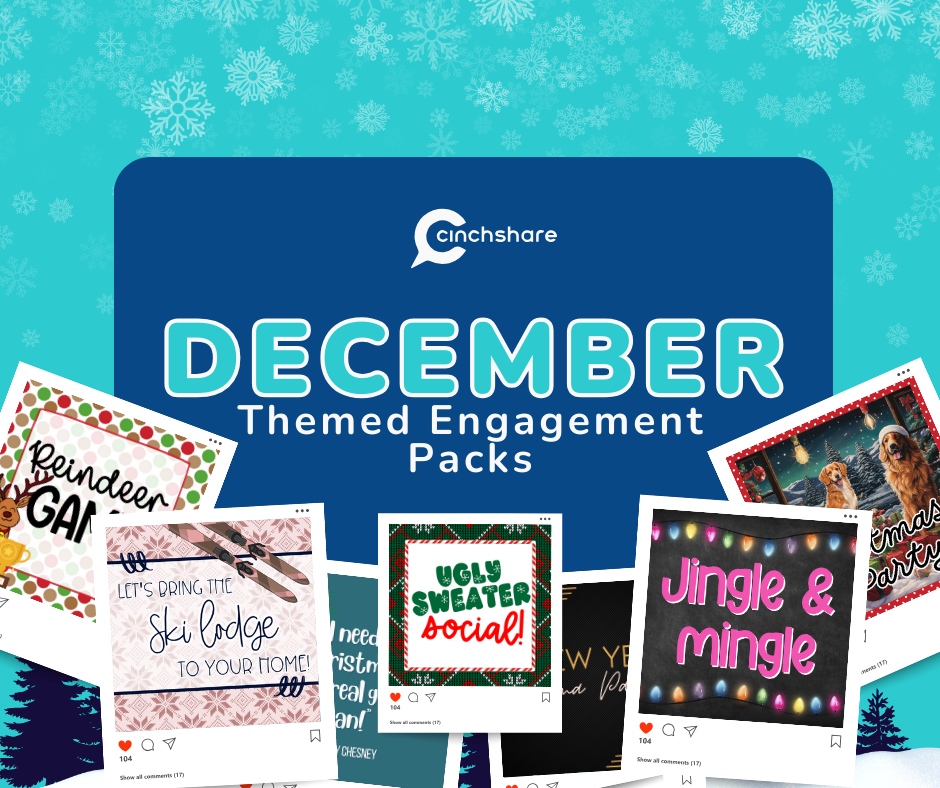 3) Batch schedule your posts in MINUTES so you can enjoy the holidays
Seriously, you can schedule 31 days of content with just a few clicks with CinchShare! Take your time-saving to the next level with this awesome tool by batch posting entire Facebook parties, holiday themed engagement packs, a month of engaging content to your VIP group, or even a year of holiday posts to your Page!
You can have your fruitcake and eat it too!
So, here it is… the real reason you'll be jolly all December long! With daily post ideas, done-for-you content and the easiest to use scheduler, you'll be sure to sleigh consistency, entertain your community and blow up your holiday sales!
Previous Article
Schedule Your November Content In a Cinch
Next Article
You may also like