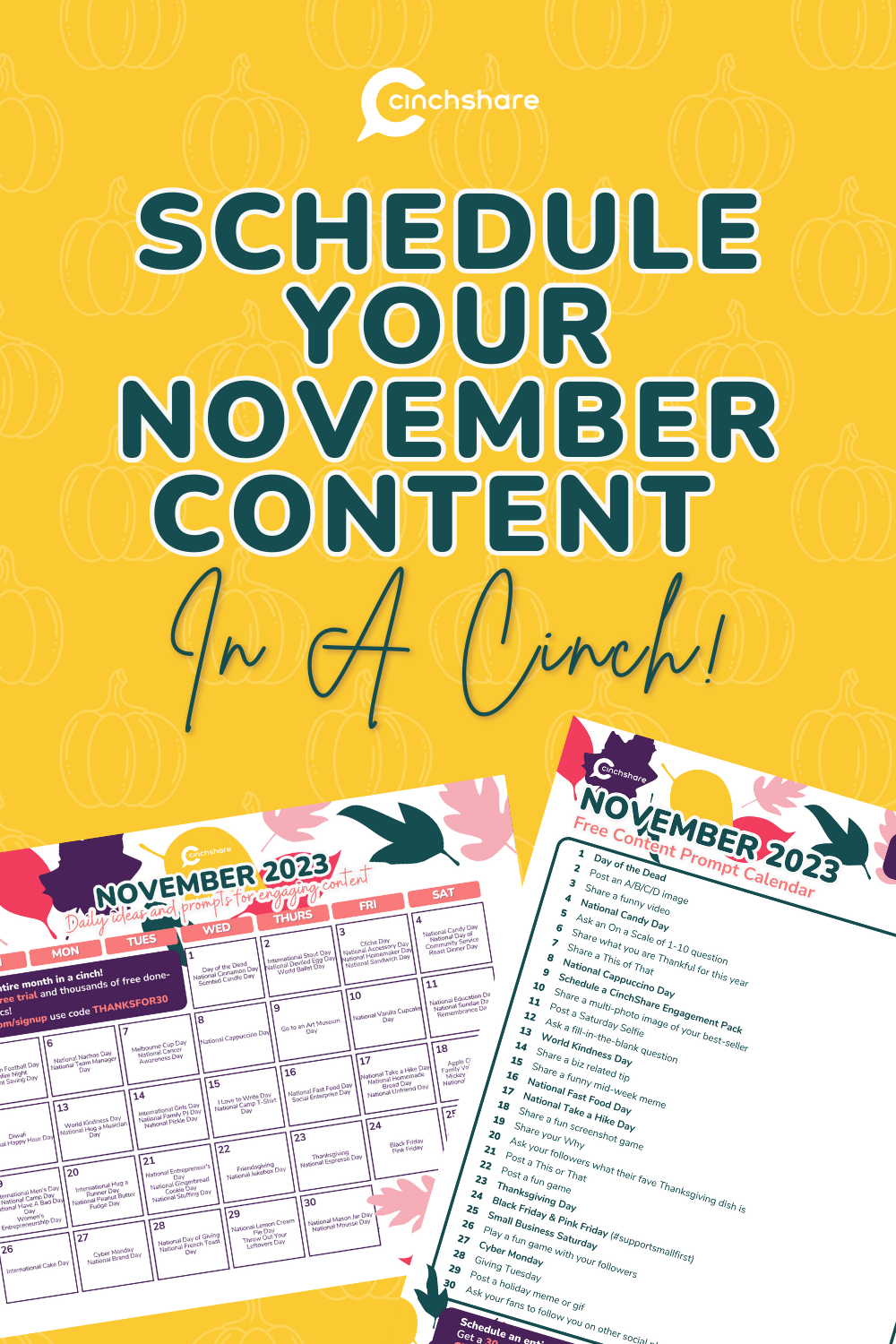 Blog
Schedule Your November Content In a Cinch
November is a month filled with cozy layers, loved ones, and exciting business opportunities during Pink/Black Friday, Small Business Saturday, and Cyber Monday. By planning and scheduling your posts ahead of time, you can save time and focus on understanding your audience and how your offerings can benefit them. Daily post ideas and ready-made content […]
Published: Oct 17, 2023
November is a month filled with cozy layers, loved ones, and exciting business opportunities during Pink/Black Friday, Small Business Saturday, and Cyber Monday. By planning and scheduling your posts ahead of time, you can save time and focus on understanding your audience and how your offerings can benefit them. Daily post ideas and ready-made content ensure consistent, engaging, and entertaining posts that will keep your community members involved.
3 tips for making November count in your business:
1. Batch schedule the entire month of content–in a cinch
Make your social media as easy as pie with our exclusive November Engagement Pack! The pre-made graphics and games are designed to help you post consistently while adding a touch of seasonal flair to your social channels.
Get immediate access HERE for 30 days of content, already done for you!
https://bit.ly/November_Engagement_Pack
Because we all know the importance in posting consistently – so why not get ahead of the game?
When we say you can schedule your entire month of content "in a cinch", we mean it. But just how quick are we talking? Let's just say you won't have even finished your cup of AM coffee before you're set up and scheduled for the month. How's that for a productive morning?
Here's a peek at our ready-to-batch, awesome posts for November: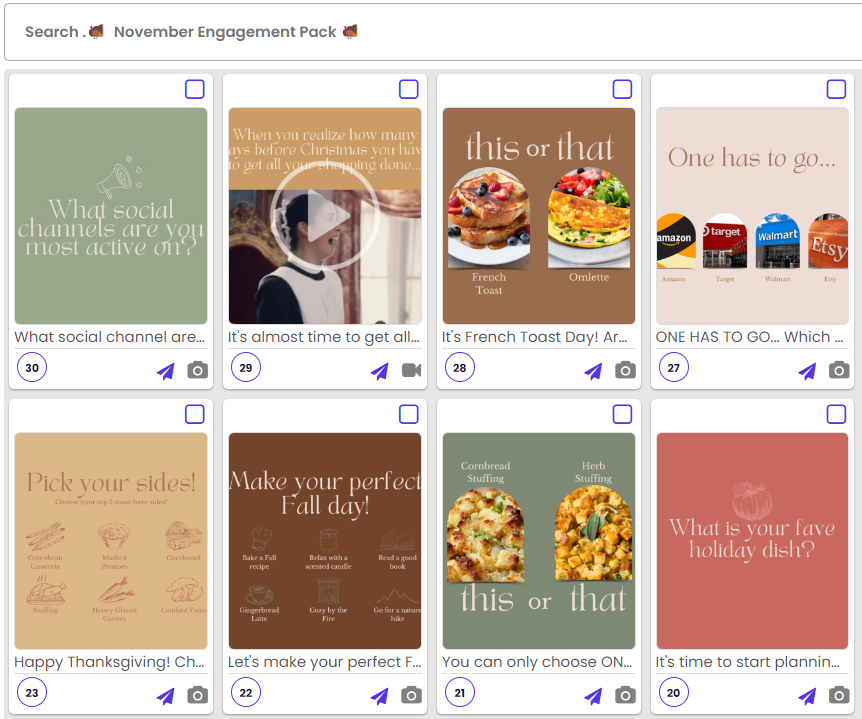 2. Steal our DAILY prompt ideas
Our ultimate goal at CinchShare is to help you save time by taking the guesswork out of what to post. And not just any post, posts that connect and convert, leaving you feeling confident (and excited!) to hit "post". So to make your life EVEN EASIER, we developed your new secret weapon to staying consistent, saving you precious minutes so you can connect more with your audience.
Introducing our brand new monthly content calendar of prompt ideas!
https://bit.ly/November_Content_Calendar_Download
We love to use these daily prompts alongside our engagement packs to inspire fresh, relevant ideas, and add to our bank of engaging content!
Or better yet, tee off a half hour as your "content time" to batch these prompts out too, so that all your content for the month is DONE.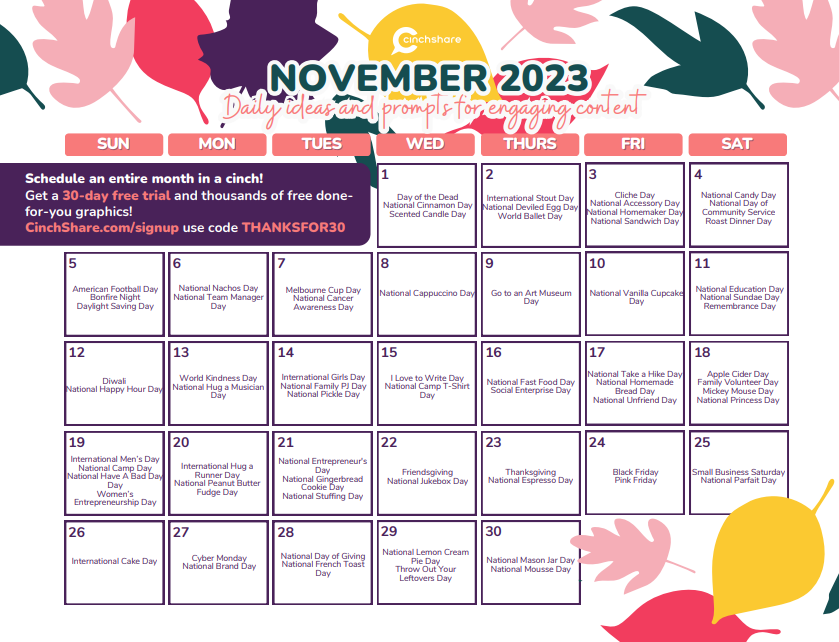 3. Use social media holidays to connect with your audience
Social media holidays are those real and not-quite-real holidays that celebrate people, things, or moments on social media. Although you may not be able to buy a greeting card for these holidays like #NationalCandyDay (November 4), #NationalCappuccinoDay (November 8), and #NationalFastFoodDay (November 16), they can still be fun to observe and celebrate with your audience!
Social media holidays are especially popular on platforms like Facebook, Instagram, Threads and X. Acknowledging them on socials with a fun "THIS or THAT" post can instantly make all your followers want to join in.
WHAT SOCIAL MEDIA HOLIDAYS ARE HAPPENING IN NOVEMBER?
November 1st: Day of the Dead
November 4th: National Candy Day
November 8th: National Cappuccino Day
November 13th: World Kindness Day
November 16th: National Fast Food Day
November 17th: National Take A Hike Day
November 23rd: Thanksgiving Day
November 24th: Black Friday & Pink Friday
November 25th: Small Business Saturday
November 27th: Cyber Monday
Post consistently all month long with CinchShare
Posting about your business doesn't have to be so hard. Discover how effortless it can be to show up consistently all month long to ALL your socials, like Facebook groups, Facebook pages, Instagram, and more.
Don't forget, we're here to support you every step of the way, so if you have any questions or need assistance, don't hesitate to reach out to us. We're always here to help!
Previous Article
Grow your business with Pinterest
Next Article
Social Selling Tips to Sleigh Your Holiday Sales
You may also like