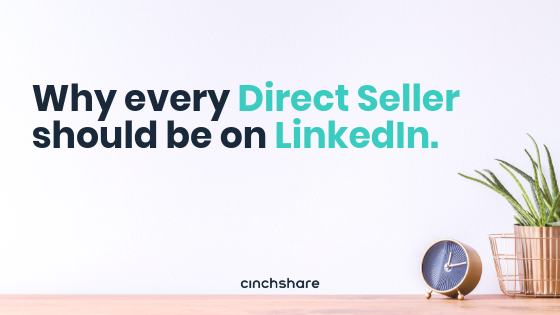 Direct Sales
Why every Direct Seller should be on LinkedIn
As of 2019, LinkedIn has 303 million active monthly users, 40% of which visit the professional networking site daily. The platform's main purpose is to help build recognition and relationships – B2B style. It's basically Facebook for business owners!…
Published: Sep 10, 2022
As of 2019, LinkedIn has 303 million active monthly users, 40% of which visit the professional networking site daily. The platform's main purpose is to help build recognition and relationships – B2B style. It's basically Facebook for business owners! So why should you add LinkedIn to your social media marketing strategy? Here are a few rock solid reasons:
You own a business
Seems super obvious, but as an independent consultant, you legitimately own your own business, so it simply makes sense for you to be on LinkedIn! It's another way for people to discover you, and it's also beneficial for coming up in a Google search, same as a Facebook business page and your website or blog. People on LinkedIn act with professionalism and respect one another. Want to be taken seriously as a business owner? LinkedIn is the place to get into that arena.
Infinite networking opportunities
Every business owner needs different types of products! We are all human, right? So why not be available where business owners are looking to see what others do for a living; what they have to offer; what's of value to them? Say you're in the health and wellness industry: you could join a LinkedIn networking group (very similar to a community Facebook group) for like-minded business owners and start forming relationships that can turn into not only potential customers, but also friends in the business who you can learn from and vice versa. LinkedIn is a place where you can find out about local events that you may want to attend as a vendor; you can also discover new face to face networking opportunities and really build solid, long lasting partnerships both online and offline. Aside from LinkedIn groups, you can also comment on your Connections' posts in your feed, which is, again, very similar to Facebook! Keep those relationships going simply by engaging with them and who knows what opportunities will arise!
Grow your team
People on LinkedIn are seeking self-improvement and opportunity. They are ambitious go-getters who are ready to work hard, make money and become super successful. Sound familiar? It's YOU. And those other people are exactly who YOU want on your team! Letting people know on LinkedIn that you're "hiring" is a fantastic way to recruit new members on your direct sales team. Post about your Why, your fun behind the scenes and incentive trips and of course, your business opportunity! Just remember to not be super spammy and ONLY post about your products and business opportunity – you still want to apply the 80/20 Rule of content marketing!
Share your expertise
Do you blog? Or perhaps you post tips and videos on your FB business page or Timeline, or in your Facebook VIP, team or niche group? You can repurpose ALL that information right into your LinkedIn profile to share with all your connections. It's super simple to do, especially with CinchShare! That's right, CinchShare 
now schedules to LinkedIn
 so that YOU can easily remain consistent and simply engage and grow those business relationships on LinkedIn. How awesome is that? Be sure to connect with us on LinkedIn! We can't wait to engage with you there!
Previous Article
How to Keep Business Momentum After the Holidays
Next Article
Why January Is The Best Month To Book Home Parties
You may also like