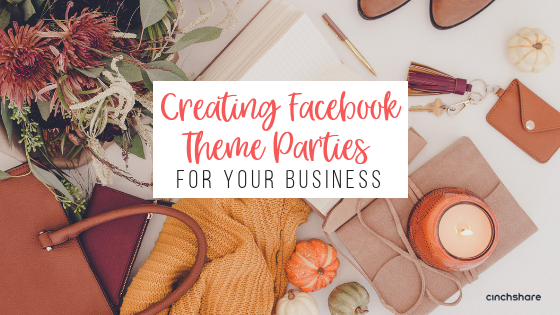 Direct Sales
Creating Facebook Theme Parties for Your Business
Who doesn't love attending a good theme party?! A Facebook Theme Party is where you take your normal party script and set it against the backdrop of a theme, but the great thing is, you get to use your regular script and just make a few "themed"…
Published: Sep 10, 2022
Who doesn't love attending a good theme party?! A Facebook Theme Party is where you take your normal party script and set it against the backdrop of a theme, but the great thing is, you get to use your regular script and just make a few "themed" tweaks to it and you are good to go! Facebook Theme Parties are not only super fun and entertaining, but they greatly help to increase booking and sales. Are you ready to learn how to make your own theme parties? Awesome! Let's do it. We want to help you really get off to a good start planning your first/next online theme party. This blog is about teaching you HOW to do it! ACTIONABLE: Go grab a clean sheet of paper, and get ready to rock this Facebook theme party thing!
So why bother with a theme?
People like theme parties because they are fun and different. They make you and your business stand out as something unique. It is time to inject some LIFE and FLAIR back into your online parties and theme parties are the perfect way to do that! Before we dive into building a theme party, we want to take a minute and set your mind at ease about something; the great thing about hosting Facebook Theme Parties (and even ho
me theme parties) is that your script remains pretty much the same, just a couple theme-y tweaks and you are good to go! We don't want you stressing over the idea of themes, they are a way to increase your business, not increase your stress level! So we want you to let your hair down a little and prepare to get those creative juices flowing! Themes are about fun, entertainment and engagement.
How do you choose themes and how do your party hosts choose their themes?
We encourage you to come up with a list of 10 theme parties to get yourself started. A great way to do that is to break your theme parties into categories for planning purposes. For example, to make your list of 10 themes, you could do: 3
 – Days of the Week Theme Parties – Tasty Tuesday, Wine Down Wednesday, Sunday Funday 3 – Seasonal Theme Parties – Fall Flair, Happy Fall Ya'll, Pumpkins & Purses 3 – Generic Theme Parties – Girls Night Out, Wine & Unwind, Mother Daughter 1 – Food/Drink Theme Party – Death by Chocolate
Let's brainstorm some more ideas for these 4 categories and get those creative juices flowing! ACTIONABLE: Flip your piece of paper over to the backside and jot down any theme parties that spark your interest.
***CINCH TIP***
With CinchShare's Multi-Photo feature, you can schedule up to 100 photos on a single post to share with your host! She'll love scrolling through them to pick her favorite!
What is YOUR theme of choice?
Now that you have brainstormed, we want you to choose ONE single theme to work with, so we can show you how to actually create a FB Theme Party! We are going to help you create the framework for your first/next Facebook Theme Party! ACTIONABLE: 
At the top of your sheet of paper, write your chosen party theme really BIG!
Have your Host pick her favorite theme
Once you have your list of 10+ party themes ready, share the theme party list with your Host and let her choose whichever one she wants, be excited about whichever theme she chooses because it is the BEST theme for her & her friends! Side note: Did you know that you can even do the same fun themes with your home parties too? Just print a list and laminate it or put each theme on a flyer inside a binder. You will be SHOCKED at the number of people who jump at booking a theme p
arty. With over 20+ years in party plan, we cannot even count the number of times a guest at a party says she doesn't want to host a party and then you pull out the theme party binder and she and her friends start flipping through and say "Well wait, I know my friends would LOVE a Margarita Madness party!"
ACTIONABLE: Grab your sheet of paper and number it #1-10 and start listing out some theme parties ideas that you know would like to offer, feel free to refer to some of the ones you jotted down on the back of your sheet too!
Setting up the Theme Party
The party set up for a theme party is the same as a regular Facebook Party (refer to our Week 2 training this month 
"Setting Up Your Facebook Parties for Success"
 for the specifics). But to make the party follow a theme, the images you use need to follow the same theme, starting with a Cover Photo (aka banner). Your cover photo should reflect the theme of your party. Your cover photo is prime real estate on the party, a guest will see that image wh
ether she logs into the party from her computer, tablet or mobile. That cover photo sets the mood for your party and it should get people excited about attending. You can put text right on your banner as well so you can showcase important party details.
Thinking about the theme one party theme that you wrote down BIG on your paper, what would you put on your cover photo? ACTIONABLE: On your sheet of paper, write 1-3 things you want to be sure to showcase on your cover photo/banner.
Over 10 MILLION Facebook Parties created with the CinchShare app and over 7,000 personally run by the CinchShare company!
Creating Theme Party images
Remember, this is a "theme" party, so all of your pre-posts should match the party theme too. Make sure your graphics all follow the theme, so if you are doing Fall, all of the images should be Fall related. If you are doing a chocolate theme, all of the images should have chocolate in them. The theme of the party should carry through on all of your images and posts. Get started with one of the free CinchShare Facebook Theme Party templates available for free to CinchShare users here 
http://bit.ly/facebookpartythemes
.
So, thinking of the theme you chose to work with tonight, what kind of images would you do that matches your theme? ACTIONABLE: On your sheet of paper, list types of photos you need to take or stock photos you need to find to match your theme.
***CINCH TIP***
Creating your images is simple using the Design with Canva button on your CinchShare account

. You can easily upload your own photos or free stock photos that match your theme into Canva to create the graphics you need.
The importance of Pre-Posts
The purpose of pre-posts is to get your party guests engaged in the party right away and pre-posts really help get them in the mood of your theme! Pre-posts are where you get them chatting with you (and each other). We like to consider pre-posts as icebreakers for the party, it is not the time to sell. You can introduce yourself, ask a question, share some common interests, play a game, share food/drink recipes, do some fun activities that match t
he theme of the party, etc. People are willing to engage if you ASK THEM to engage with you. Pre-posts are where you have the opportunity to build relationships, like the meet and greet time of the home party where you are getting to know everyone. Be active and engaged in the conversations, every comment made by a guest is acknowledged and replied to by you.
Thinking of the theme party topic you chose, what kind of pre-posts would fit your theme? ACTIONABLE: On your sheet of paper, list 3-5 pre-post ideas that you want to share in your theme party.
Now you have reached the Party Time of your FB Party!
Welcome the guests with an image or video connecting with them! Be sure the 10-15 posts are alternating the content types (i.e., Photo, Link, Video, Status, Photo, etc.) and include custom albums to avoid posting too many individual photo posts, which could land you in FB jail! Remember to schedule your posts a minimum of 3-5 mins apart. Here is an example for a 30 minute Facebook Party:
Post #1 – Guest roll call & how do you know the hostess Post #2 – Product category post Post #3 – Product category post Post #4 – Video of live product demonstration (3-5min) Post #5 – Shopping Time w/ Custom Album Post #6 – Booking Talk Post #7 – Thank you for coming
Which types of posts get the most interaction from your guests? What will your party timeline look like for your theme party? ACTIONABLE: On your sheet of paper, list the party post ideas that you want to share in your theme party.
Close it up with After Party posts
Once the Facebook party is over, After Party posts offer closure and a way to share that extra valuable information for the next 24-48 hours. Just like an in home party, there are always guests who linger and want more details! With online parties, the guests will still receive notifications which will bring them back to the party in case they didn't place an order or weren't aware of your business opportunity. It's a nice way to wrap things up! Great After-Party post ideas:
Book a Party incentive Business Opportunity information Party link and ordering instructions Thank you (to Hostess, Customers, guests who book parties, etc) Last call for orders/Party Closing
Why do you think After Party posts are important? What types of After Party posts would you use for your theme party? ACTIONABLE: On your sheet of paper, list 3-5 After Party Post ideas that you want to share in your theme party.
Create Fun with some THEME-y extras!
A great way to add some theme-y fun to your Parties is to jump over on Pinterest and start creating some awesome pin boards for each of your theme parties! 1. All Theme Parties board – where you list all the theme parties you offer and share that with your potential party hosts. 2. Individual Theme Party Drinks board – pin a bunch of drinks that match your party theme 
3. Individual Theme Party Food board – pin a bunch of food recipes that match your theme 4. Individual Theme Party Decor board – pin a bunch of theme-y decor that matches your theme.
Once you have your boards created, it is easy to share a link to those boards in pre-posts to create engagement and have the guests follow you on Pinterest. It also gets their creative juices flowing within the party theme! You could even make those pin boards "group boards" and allow the party guest to post their own fun pins and ideas to the board, creating great engagement and an even more awesome pin board for you! What kind of Pinterest pin boards will you create for your theme party you are working on? ACTIONABLE: On your sheet of paper, list Pinterest Board ideas that you want to share in your theme party.
***CINCH TIP***
Schedule Your Pinterest Board link with CinchShare.
Follow CinchShare on Pinterest!
Set the tone for your Facebook Theme Party
The best parties are relaxed and genuine, where the Consultant and Host are able to chat with their guests and answer questions on the fly. If you've ever run a Facebook party, then you know that behind the scenes can look and feel anything BUT relaxed! Copying and pasting text and images at specific times, engaging in real time and balancing notifications while watching the clock trying to nail
 the perfect delivery sequence can make a party stressful. CinchShare makes it easy to create and post to multiple Facebook parties in seconds! You have the ability to pre-schedule all of your posts for your party AND you can Batch Post and reschedule your party posts to a new party in less than one minute and use them again and again? It's true! We also have a feature that allows you to quickly find and replace the name of hostess, party links or any other words on the new party.
Create Theme Party Folders in CinchShare!
CinchShare is far more than just a Facebook Party scheduler, we are also a content management system! You can create folders and subfolders right inside your CinchShare account and store all your theme parties. For example, you could create a "Theme Party" folder and then create sub-folders inside that folder such as "Death By Chocolate", "Ghouls Night Out", "Margaritas & Manis", etc. Just think of how organized you
r content will be and how EASY it will be to find things in your CinchShare account!
Have you created your own folders inside of CinchShare yet? Why do you think this would be beneficial to organizing your business?
***CINCH TIP***
How to Create a Folder & Subfolders in CinchShare
FREEBIE: We created a theme party bundle folder that you are welcome to use for your own theme party! If you are a Cinch User, you can grab them all HERE.
Share Your Theme Party Folders with other CinchShare users!
And did you also know that as a CinchShare user you can SHARE content and folders with other CinchShare users? Share content with your team and co-workers in seconds with Shared Folders! Just imagine how awesome this could be for your team!! If you have 2-3 theme parties created and I have 2-3 theme parties created, we could share them with each other and now we both have 6 theme party scripts and images ready to go 
for our Host to choose from! It doesn't get much easier than that!
***CINCH TIP*** How to 
Share a Folder
 with other CinchShare users.
FREEBIE: 60 FREE theme party images!
If you are a CinchShare user, we want to get you started with an awesome shared folder filled with a year's worth of theme party ideas for all seasons of the year which means that you could do a different theme every week!
30 FREE theme party
 templates for CinchShare users.
Not a CinchShare user yet and want to be? You can sign up here right now and get a 30-Day Free Trial with this exclusive link – click here.
We can't wait to hear all about your awesomely successful Facebook Theme Parties! Be sure to join the 
CinchShare Facebook Party & Marketing Training
 Facebook group and let us know how they're going!
Previous Article
Scheduling is so much more than 'set it and forget it'!
Next Article
5 branded graphics you need for your direct sales business
You may also like