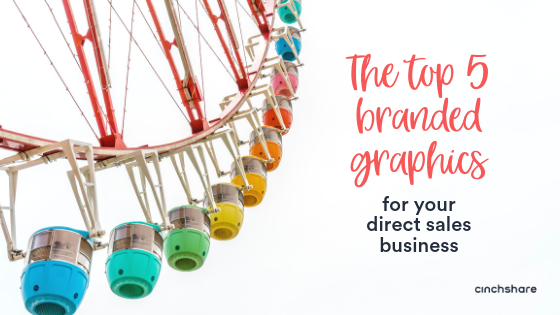 Direct Sales
5 branded graphics you need for your direct sales business
Do you have specific branding colors and fonts that you consistently use across your social media platforms? If not, you should! Branded graphics will keep you visually consistent, help you stand out and give your business a sense of coherency that will get people to…
Published: Sep 10, 2022
Do you have specific branding colors and fonts that you consistently use across your social media platforms? If not, you should! Branded graphics will keep you visually consistent, help you stand out and give your business a sense of coherency that will get people to notice you and be able to pick you out of their news feeds, which is exactly what you want! Here are the top five types that you should be using for your social media marketing strategy:
Cover Photos
Cover photos, also known as banners, are 
prime
 real estate when it comes to marketing your business. You definitely want to have branded graphics so people who visit your page, group, and/or profile can see that you are a professional business with a unique style. Be sure to include your logo and a Call to Action "button" so that when they click on the graphic you can include pertinent information and a link to your website, blog or other social media account in the post message!
Quotes
Everyone loves to share quotes, which is why branded graphics are the way to go when posting them. Being authentic and on brand has never been easier with CinchShare's 
Batch Post and Drag & Drop features
! Create an amazing branded Instagram grid with your own custom graphics and schedule them out so you have tons of time to create more content!
Product Posts
Take your own product photos to design your own branded graphics so that you can avoid Facebook Jail and stand out from all the other consultants who are using company photos. It's easier than you think and will give your products that "real life" vibe which your potential customers will relate to. Just make sure you have good lighting and the photos are in focus!
Party Posts
We LOVE branded party posts! They help your parties pop and create an exciting atmosphere with a nice flow of posts that all "match". Your guests and host will be blown away with how professional and visually attractive your parties look. You can brand pre-posts, live posts and post-party posts with fun themes like we have for our users in our Cinch Graphics shared folder of 
theme party bundles
. You can do the same themes with your own colors/fonts or maybe we already have one that fits your branding style!
Engagement Posts
Not every single engagement post you post 
has
 to be branded to your business, but having a few a week really gets people to notice you! Grab free stock photos and put some text over them using your fonts and colors – don't forget to include your logo/watermark – and get ready to have unique content that's sure to get people commenting!
Use CinchShare's 
Design with Canva button
 so you can create and schedule your branded graphics all in one place! And be sure to join us in the 
CinchShare Facebook Party & Marketing Training
 Facebook group so we can chat about all things social media marketing for your business!
Previous Article
Creating Facebook Theme Parties for Your Business
Next Article
Sell the Solution, Not the Product
You may also like